We just hear about goLance platform and it's amazing so, We are sharing with you everything you need to know about goLance.
What is goLance?
goLance is a best freelancing website launched last June 2015. Its CEO, Michael Brooks, has a vision. It is to create a platform where there is no differentiation between a client and a freelancer. Users are offered the best of both worlds. Ain't that grand?
Best reasons why you would like goLance as a freelancer and as a client:
Cashback – As an employer, you get cash back of 2% to 5% depending on your method of payment.
Lower Fees – Freelancers will only have to pay a flat 7.5% on all contracts and is always FREE to clients.
Faster Payment – Depending on your preferred modes of withdrawal, transfer of funds from your goLance wallet to your bank account only takes a day.
Payday Advance and Flexible Review Periods – Clients can choose to review or have the ability to set shorter review periods resulting in quicker processing time.
goMeter – Just like other freelancing platforms, goLance also has its own tracker. You can download the goMeter here.
Multiple global payment partners – There are multiple global payment partners of goLance so you can just choose which one serves you best. These are their payment partners:
How To Create An Account On goLance (best freelancing website)
If you're reading this, odds are you are at the start of launching your career as a freelancer.  On behalf of goLance WELCOME! We are excited to help bridge your journey with new opportunities and jobs. This guide will cover the fundamentals of setting up goLance account.
STEP 1:
A) Click here to visit the goLance sign up page.
B) You will have two options to join goLance. The first is using social media to create an account. The second is filling out the fields to create an account. Pick whichever option is easiest for you.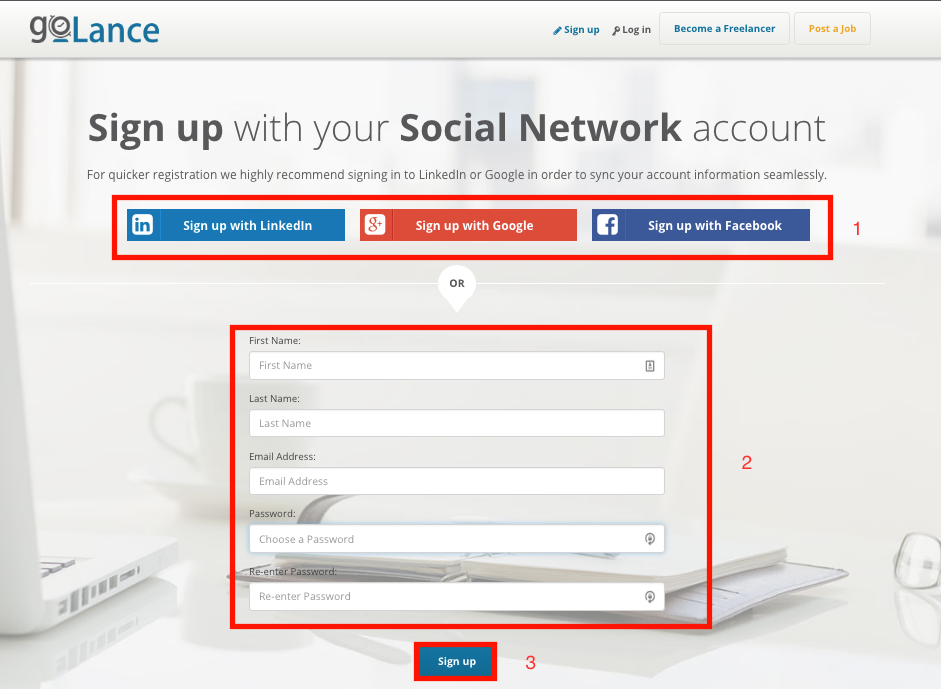 STEP 2:
A) For this guide we have selected option 2 — filling out the fields. When you do this you will be asked to verify your email.

B) It may take up to 10 minutes before you receive an email from goLance. If you do not receive an email you can request a second confirmation be sent to you via the verification page.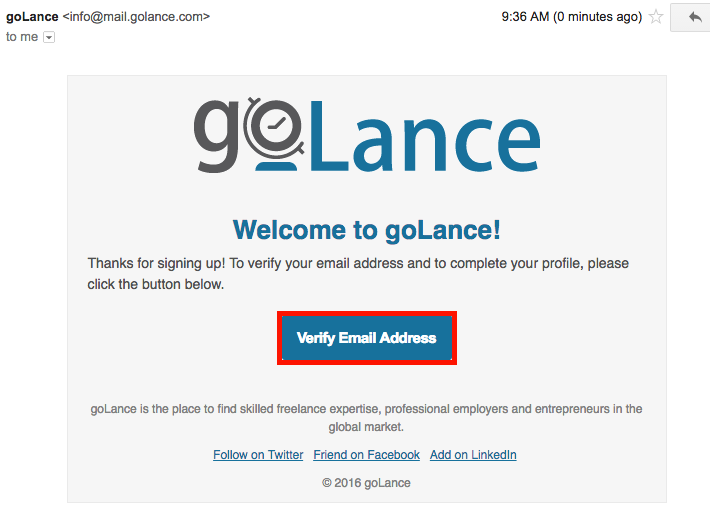 STEP 3:
After clicking to verify your email address you will be directed to a page that will ask you to select your main purpose to for being on goLance which is best freelancing website.
The three options are:
A) To Hire People
B) To Find Work
C) To Find Work And Hire People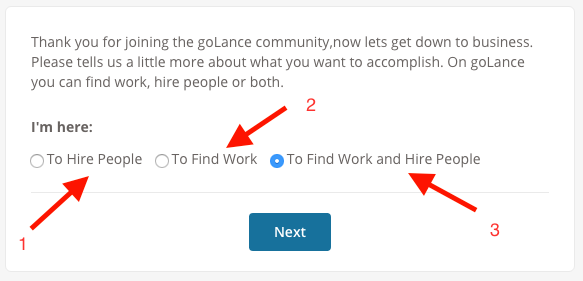 STEP 4:
The next screen will ask you to select your skills. You can skip this option, however, we strongly advise you do not and instead, continue to fill out your profile as much as possible.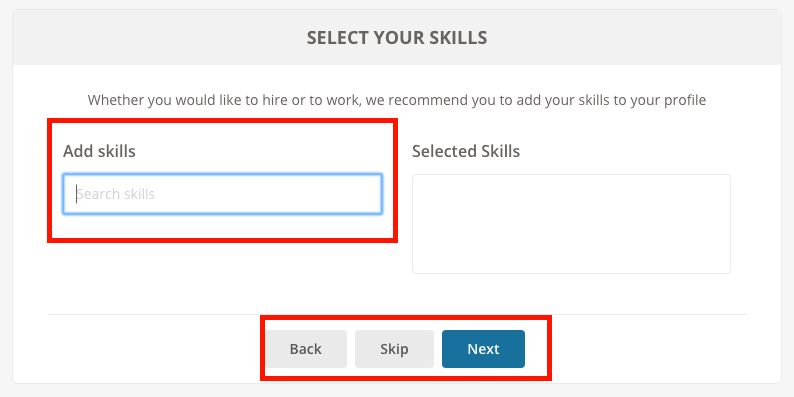 Where it says, "Add Skills" you will type in your skills. A list will appear click on the ones that are your skills. These will be stored to the right where it says, "Selected Skills" as shown in the image below.

STEP 5:
The next screen will ask you to select up to 10 categories that are related to your expertise.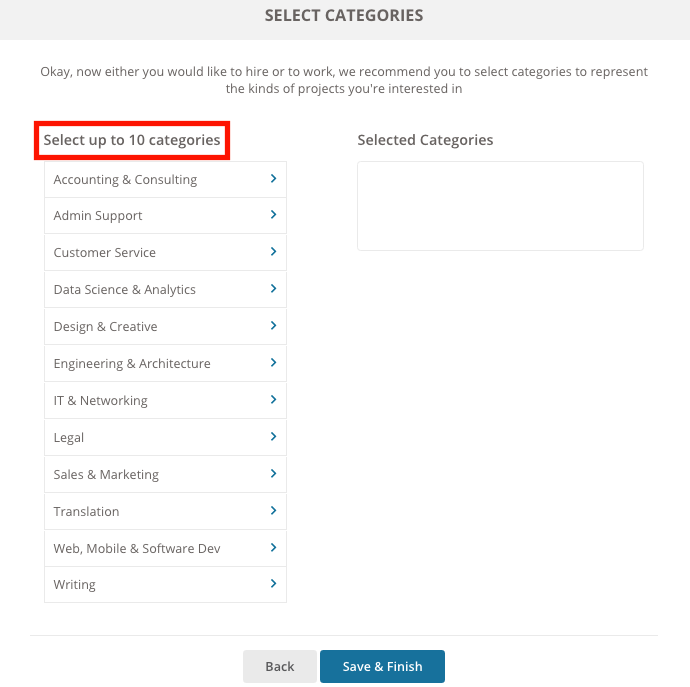 Below you can see what it looks like selecting categories. Please match the numbers below with the numbers in the image below.
when you place your mouse over a category you'll find subsections related to that niche. Select the ones that are relevant to your skills.
The categories you select will be stored to the right.
After you finish make sure to click "Save & Finish"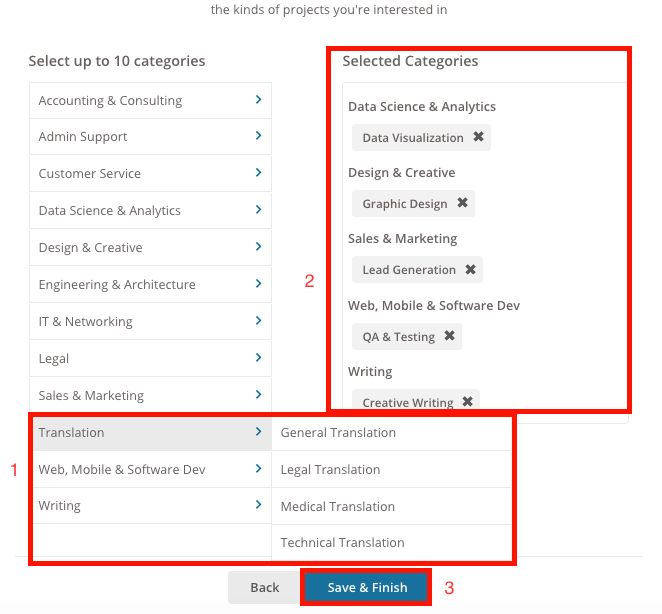 STEP 6:
The next screen will take you to your profile. At this stage, it is incomplete and will NOT show up in search results until you add some more information.
Please click on "Complete Profile" to continue finishing your goLance profile.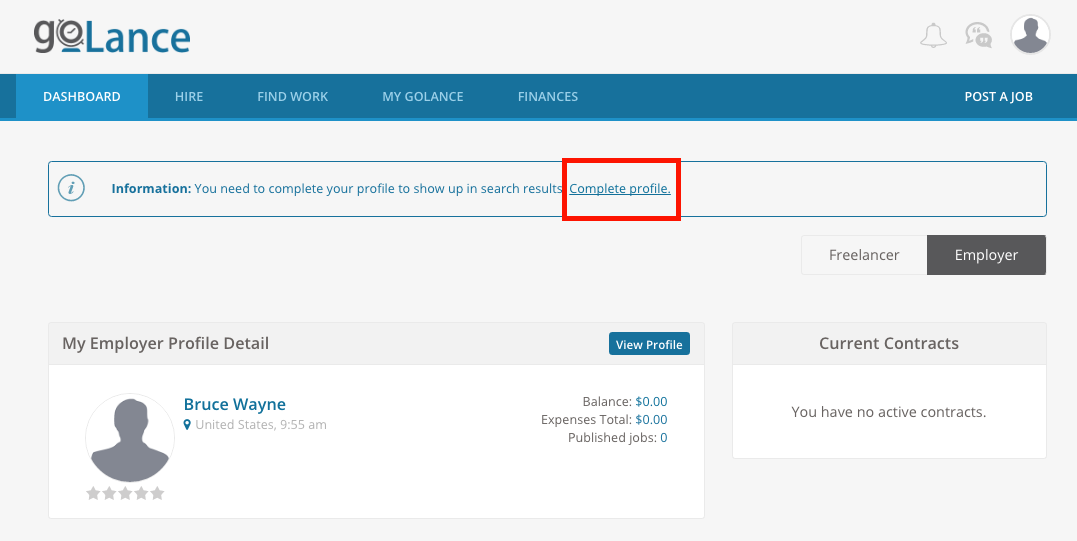 STEP 7:
To the right is a box labeled "Profile Completeness" — start going item by item to complete your profile.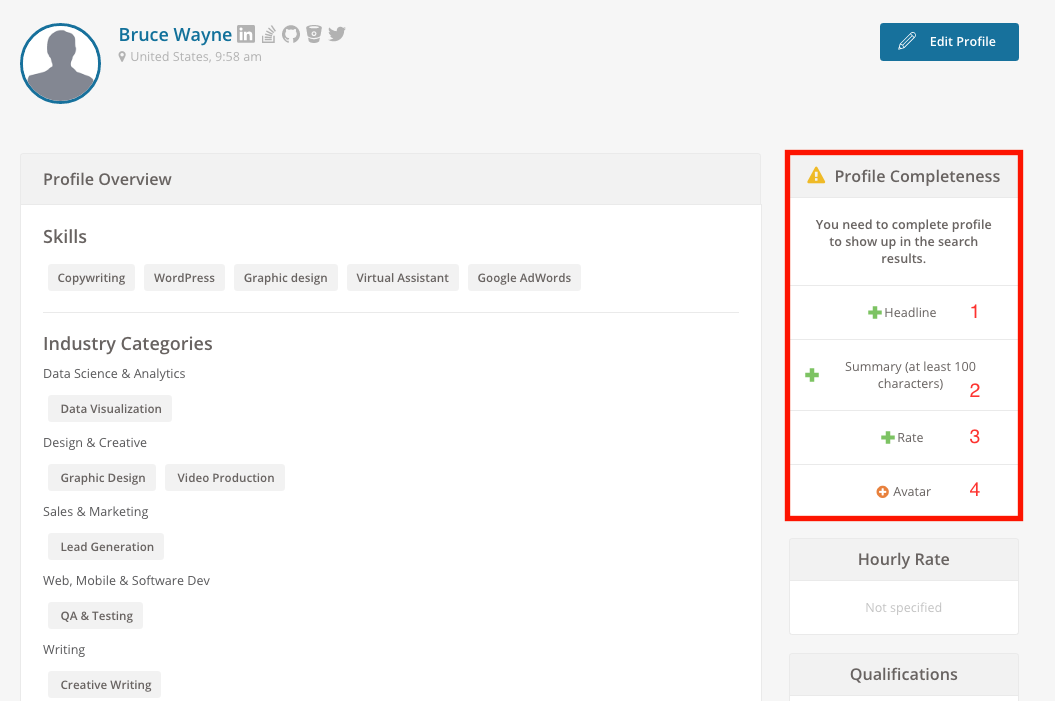 STEP 8:
Select "Headline" (#1 in Step 7).
Aim to make this headline true to what you do.

STEP 9:
Select "Summary" (#2 in Step 7).
In your summary section market yourself. Let prospects know about your top skills, what you're interested in doing, and remember to be professional.
STEP 10:
Now it's time to set your goLance rate (#3 in Step 7).
You can always update your rate as you move forward. After you enter your rate you will see the goLance (best freelancing website) fee below and how much you'll earn.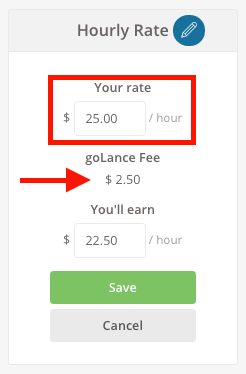 STEP 11:
The final step is to add your "Avatar" (#4 in Step 7).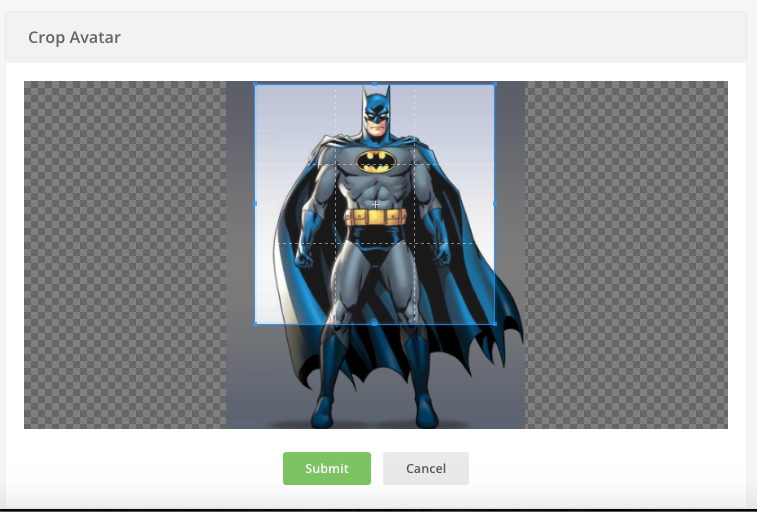 STEP 12:
A) After you complete those four steps you profile will show up in search results (reference #1 below to verify).
B) If you want to make your profile more connected select #2 to link up social accounts.
C) If you are interested in making edits to your profile select #3.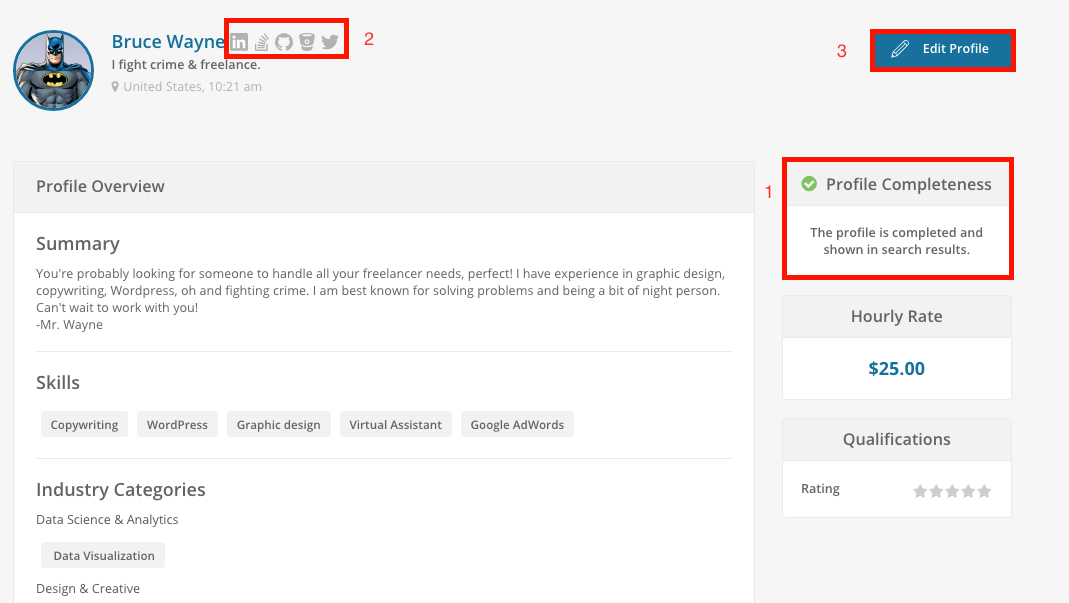 STEP 13:
Select #3 in Step 12 and scroll to the bottom of your profile to add any of the following to your profile:
Samples
Working History
Education
Certifications
Patents
Publications
Honors & Awards
Here are some reviews of goLance from the web:–
Here is complete video tutorial for goLance.com :-
---
**Disclaimer: We publish complete article with the help of golance blog website. Fore more information visit goLance Website
6