Jan van der Spoel is the founder of Grip on Trust, an organized sampler webinar to explain how trust works, how to create trust-awareness and build high trust relationships. He is a Leader, Mentor, Keynote Speaker, Design Strategist, Consultant & Coach.
After 25 years working as a designer and creative director he came to the conclusion that communication always revolves around trust. When there is a lot of space between our words and our actions, we lose trust, and vice versa. Today we got a chance to interview him, Let's know more about him & learn from his experiences.
We hope this can inspire you to become a successful person too! It is worth listening to a successful entrepreneur or to people who share their success stories. We can significantly learn many things from the experiences of them, by listening to their story.
Excerpts from our exclusive interview with him:
Q1) Tell us a little bit about your start-up and your journey, please;
The words 'start-up' really sounds a bit strange to me. It gives the idea that something starts, while to me, it feels like the result of a very long and intensive process.
When you call something a start-up, you automatically think of flashy apps and clever online tools. My business is much more the accumulation of my experiences and the path of discovery into what you might call becoming a thought-leader on the subject of trust.

This is also the business: I help entrepreneurs to become trusted leaders, help companies to create a trust-based corporate culture and help determine what is needed to make customers trust your brand.

Q2) How did the idea for your business come about and what was your key driving force to become an entrepreneur?
I have worked as a designer and creative director for most of my career (and still do for some companies). When you have to create something out of nothing with the purpose to reach people and to influence decision-making, you have to understand what goes on in their heads and their hearts.
This way I got very curious about why do people do what they do. More and more I wanted to understand human behaviour.
In 2015, I founded a company called the Persona Academy. We make persona's that provide deep insights into the needs and wants of potential customers. Further, it provides insight and understanding of what actually motivates customers regarding the most important aspects of a company.
The business world is almost exclusively focussed on technology, systems and instruments of control. I truly believe that this will not distinguish companies in the future any more. If you really want to set up a company that can withstand fads, technology trends and data hypes, entrepreneurs really have to focus on how to create a trust-based company. This is the only way to be truly future-proof.
The incentive of my business has the level of a deep-felt purpose: I need to inspire people to understand how to get a grip on trust. Not only to create a healthier business environment, but to create a nicer world as well (yes, I am a dreamer).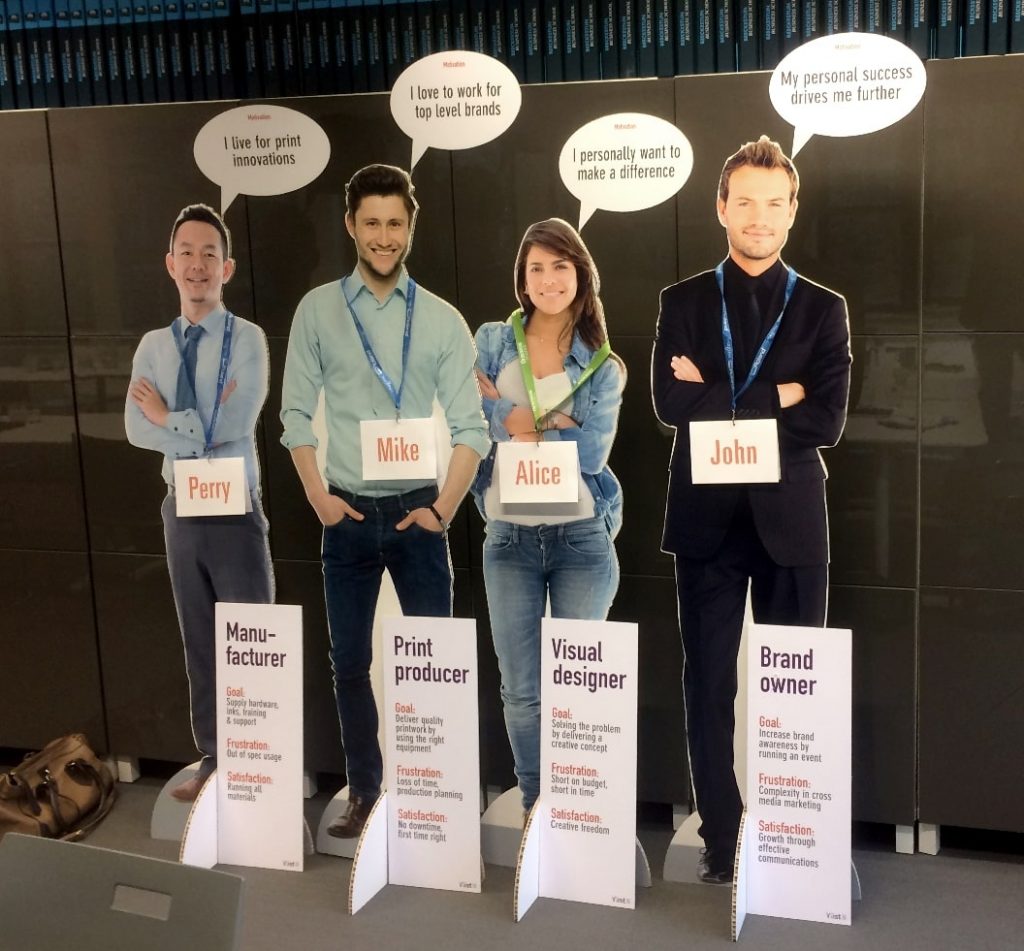 Q3) How did you come up with the name for your business?
My Business is called 'Grip on trust'. When it became clear to me that I wanted to inspire people in regard to trust, I started to google for interesting books. However, when I was looking for a book that would give me more grip on trust nothing came up, and neither did the web-domain. I remember that I was walking on a street and registered the domain then and there: www.gripontrust.com.
Q4) What service(s) or product(s) do you offer?
I help entrepreneurs to become trusted leaders, help companies to create a trust-based corporate culture and help determine what is needed to make customers trust your brand.
I do this through public speaking, articles, webinars and training programs.
For companies, I have developed two training programs: The first program is aimed at organizations and specifically at HR leaders. It focusses on trust between people in a company, trust in teams, organizational trust and customer-trust. It is called 'Grip on Trust: Tailwind Program – How to increase the level of trust in your company?'.
The word 'tailwind' comes from the world of sailing. It means that you have the wind in your back: sailing goes with less friction, and it gives the skipper time to define a destination, plot a course and adapt to different routes, depending on the direction of the wind.
The second program is called: 'Grip on Trust: Anchor Program – How to grow trust in leadership?". It focusses specifically on leaders. This program is about self-trust and how to grow trustworthiness. In general, 71% of employees do not trust their boss. This is a shocking high number and effects everything you do within the company.
Helping people in leadership positions to understand how trust works and how to increase the level of trust between them and others is a very rewarding process.
This program provides a firm anchor for leaders to hold on to.
Q5) Why should people choose your product/services?
People should choose our training programs because trust is an essential force of life. It is very important to understand how it works. Trust has a positive effect within organizations and increases business performance, increases productivity, increases engagement, decreases attrition, increases job satisfaction, reduces burnout, increases retention, increases alignment to company purpose and increases candidate referrals.
I am working together with experienced trainers and experts about human behaviour and trust.
Q6) How do you market your business, and which tactics have been most successful?
My focus on trust truly has the status of a start-up. I have two other consultancy companies: The Persona Academy and Lymbics, a customer sentiment dashboard. The first is focussed on customer profiling and the second is a system to measure customer sentiment and deliver actionable management information.
Grip on trust is a business focus that came to light at the beginning of the Covid-19 lock-down, when I was forced to stay at home and to take time to reflect. After discovering that trust is such an important force of life, I wanted to focus on it as much as I could. For now, the way I market my services is through public speaking, writing articles, sharing it one-on-one with peers and collaborating with online publications, such as this one. 🙂
Q7) How many hours a day do you work on average & can you describe/outline your typical day?
As I mentioned before, I balance several different activities. Furthermore, I am the current president of the Professional Speaking Association of the Netherlands. Suffice to say that I am a busy person, work at all hours of the day and take time off in between when I feel the need to do so. Quite often, I write my blogs or articles at 5 o'clock in the morning, as it is a very fruitful time of the day for me.
Because the things I do really interest me, it does not cost me too much energy.
Q8) What comes first for you money or emotions?
Emotions. I don't have to think about this question for a second. I consider myself much more a thinker and a thought-leader than a business person. I have a drive to do what I do and truly feel like I have a mission to fulfil.
Q9) Tell us about your early life & How has being an entrepreneur affected your family life?
I am an entrepreneur since 2015, and worked as a Creative Director for several design agencies before that. My children are 21 and 24 years old and live on their own, and I am happily married. My entrepreneurship has not affected our family life, although I do have to balance my time to have quality moments with my wife.
Q10) What piece of advice would you give to college graduates who want to become entrepreneurs??
Success always comes through people and less through technology or systems. Focus on the right people that can help you to develop and grow.
Also, college graduates who want to become entrepreneurs should obviously follow my training program: 'Grip on Trust: Anchor program for leaders' :). Please feel free to contact me if you want to discuss how trust can help you in your business or personal life.
Follow Him @
StartoCure is the online entrepreneurial magazine platform, where the team brings you Interview & Stories of Entrepreneurs, Inspirations, Influencers, Startups eco-system & Change-makers. StaroCure also committed to bringing resources, research reports, funding reports, and analysis of the startups, as well as profiles of great businesses & entrepreneurs from all over the world.
Note: If you have a similar story to share with our audience and would like to be featured in our online magazine, then please write to us at hello@www.startocure.com, we will review your story and extend an invitation to feature if it is worth publishing.
You may also like: