If you want to fly in life then learn to fall because when you stumble in the path of life, it is not known. Those are the ones who reach the destination without stumbling, but in the difficult times of life, we realize our ability. One such person is Prem Ganapathy of Tamil Nadu, who started his own company (Dosa Plaza) after having been patted in life and after studying till 10th standard.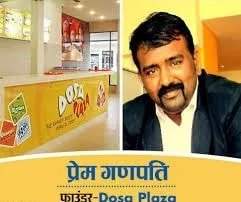 Prem Ganapathy was born in a poor family in Nagalapuram, Tamil Nadu. Due to lack of money, he had to leave his studies after 10th standard. He wanted to help his family financially in some way. After which he turned to Chennai and came here and started doing small jobs. After some time he met a person here,
Which showed him the dream of working in Mumbai. After which Prem Ganapathy moved to Mumbai from Chennai, but he never thought that he would be cheated as soon as he stepped into Mumbai. The man looted with them after sharing the job and was left alone at Bandra station.
The city of Mumbai was completely new to Prem, neither did he know anyone nor did he have the money to get home. The biggest difficulty with him was that he neither knew Hindi nor Marathi. That day he felt extremely helpless himself, but in spite of all this, he did not lose courage. Prem Ganapathy decided in his mind not to return empty-handed from the city of Mumbai in any case, to stay here and make his future.
After this Prem Ganapathy started searching for a job. After a lot of stumbling, he got a tea boy job in a dosa restaurant for Rs 150 a month. Due to his good behavior, his job started going well, but one day a customer offered Prem to open a T-shop in partnership. After which Prem Ganapathy agreed to the person and started working at the shop.
The shop was also running very well, but the person got furious in the mind and kicked them out of the business. After this, the idea of ​​putting a tea barge came to his mind, but he too could not succeed. After stumbling continuously in life, he finally set up a South Indian food stall. Although he did not know how to make dosa and idli, he mastered it by looking at others.
But his dream was that he became a big businessman, so with the money, he earned from the stall, he opened a shop near Vashi station and named it Dosa Plaza.
Prem Ganapathy started experimenting with dosa variety, his dosa is very delicious, which once eaten, he can never forget. Prem added about 108 types of dosas to his menu including American Chopsy, Szewan Dosa, Paneer Chili, Spring Roll Dosa.
Prem Ganapathy had to take his business even further, so he never lagged behind in innovation. He wished that the popularity of the shop "Dosa Plaza" reached the mall. Incidentally one day the management team of a mall came to eat at him, after which he offered Prem to open his outlet in his mall.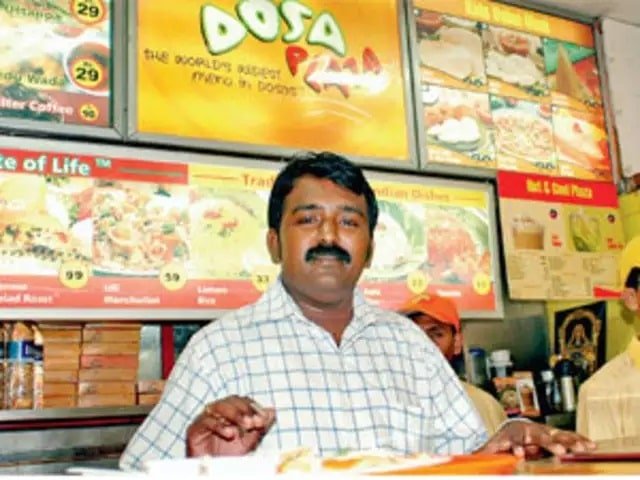 After this, with full preparation, Prem Ganapathy opened a stall in the mall and started becoming a hit as well. After this people started coming to him to take his franchise. Gradually Dosa Plaza turned into a brand. Apart from India, today its outlets are also running in New Zealand, UAE and Oman.
StartoCure is the online entrepreneurial magazine platform, where the team brings you Interview & Stories of Entrepreneurs, Inspirations, Influencers, Startups eco-system & Change-makers. StaroCure also committed to bringing resources, research reports, funding reports, and analysis of the startups, as well as profiles of great businesses & entrepreneurs from all over the world.
Note: If you have a similar story to share with our audience and would like to be featured on our online magazine, then please click here & follow the steps, we will review your story and extend an invitation to feature if it is worth publishing.
You may also like: