Mortal Nominated For The Esports Award | First Indian Streamer
Soul Mortal is an Indian PUBG Mobile player who is also a YouTube streamer. From the early days of his college life, Soul Mortal decided to stream & engage people – to lift the Indian gaming community to a new level – and to influence people to choose 'gaming' as their career option. read his full story & journey
Naman 'Mortal' Mathur becomes the first Indian to be nominated for The Esports Award
The category is described by Esports Awards as "the most distinguished streamer who has raised the standards of streaming and increased the profile of esports across the globe over the past 12 months. The winner will have consistently been at the pinnacle of streaming, pushing boundaries of what is possible and providing constant entertainment for a large group of fans across the judging period."
Mortal reply on same tweet: Lets go!! Thankyou for choosing me @esportsawards
The competitors
Mortal will be up against some pretty hefty competition. Other nominees include Pokimane, XqC, Summit1G, TimTheTatman, CourageJD, IBAI, GAULES, Dr Lupo, XqC, AsmonGold, NickmerCS and Swagg. It should also be noted that Pokimane is the only female streamer nominated.
The Esports Awards also include other categories. This includes Esports Personality of the Year, Esports Team of the Year, and Esports Mobile Game of the year. The Mobile Game of the Year category includes PUBG Mobile, Call of Duty: Mobile and Garena Free Fire.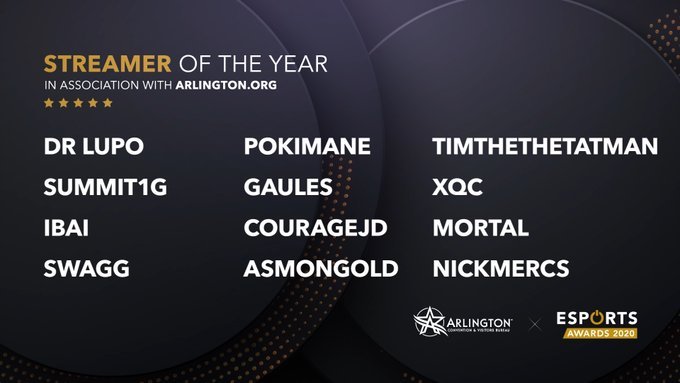 Where we could Vote
Anyone is free to visit the Esports Awards website here and cast their vote. Voting closes in November and while there is still time, you are better off voting as soon as possible. As an added incentive, those who cast a minimum of five votes stand a chance to win VIP tickets to the awards ceremony later this year.
The Esports Awards have been held for the past five years and aim to facilitate global esports talent. Previous winners include some pretty big names like Dr. Disrespect, Nadeshot, and more.
Read here who is Naman Mathur AKA Mortal
You May Like: