Story Of Ritu Rathee Taneja: The Flying Mother
Story Of Ritu Rathee Taneja, who is the flying mother & despite being good in studies, didn't choose a desk job. And after finding her passion for flying, Ritu Rathee Taneja did not look back. Now a pilot, one of the most popular travel bloggers, an Instagram influencer, and a mother, Ritu Rathee Tanjena is juggling multiple roles with ease.
We hope this can inspire you to become a successful person too! It is worth listening to a successful entrepreneur or to people who share their success stories. We can significantly learn many things from their experiences, by listening to their story.
Here's a sneak peek into her awesome life:
Q1) Tell us a little bit about your journey started with being a pilot, please;
I was very good at studies especially in math and physics, but I was never a desk job person. I always wanted to explore new things, to visit many places. So I finished my flying training, & this turned out to be my passion.
Q2) Now you're not just a pilot and a YouTuber but also an Instagram personality and a mother. How does Ritu Rathee Taneja juggle between all the roles?
Aahhhha, if we love our job, types do not matter, & I find myself executing so many different roles. I don't find any extra burden on me when it comes to YouTube Vlogs as Gaurav does everything. From shoot to editing them & posting them. Flying is my passion so it makes me happy & joyful, but being a manager for Gaurav means a lot to me. There are many challenges to making his schedule proper and easygoing. I am very lucky and a proud mother so this is it. Basically, I plan and schedule every task.
3) You are mostly known for your YouTube channel. What made you and your husband Gaurav Taneja start Flying Beast?
We never thought about doing it, we were a happily married couple. But Gaurav use to post videos on fitness, use to come live on Facebook and it worked pretty well. We got many suggestions to start a youtube channel. So Gaurav firstly started a channel named Fitmuscle TV where he used to make vlogs based on the scientific contents on fitness, bodybuilding. Then gradually we use to make vlogs but as the channel was centered to fitness. We had a very selective audience. This led to starting a channel named Flying beast for vlogging. Now we have also started a gaming channel (Rasbhari ke Papa) in this lock-down period.
Q4) What is the best part of being a pilot?
I love to fly aircraft, fly in the sky, have a watch on the weather & land the aircraft. Every flight have different challenges and I love to take up those challenges, and I love my profession
Q5) You've seen a lot of places in India as well as outside, what are your top three spots to visit?
I am a person who loves to spend time in nature rather than roaming inside man-made structures. I do like foreign destinations, but the scenic beauty is something that always attracts me. Maldives, Kashmir, North East Part of India are my favorites.
Q6) Social Media is a tricky business, do you stress about your Instagram post or YouTube video when to schedule them?
Yes, Social Media thing is tricky, but I don't stress out too much. The tough time comes when there is a big-time gap between two posts. But I try to schedule things, & everything goes with the flow.
Q7) You recently met Barack Obama as well, how was the experience?
The experience can not be expressed in words. We rarely see a person so down to earth, so humble, gentlemanly and to be in his position. I wonder how he manages everything with a smile on his face.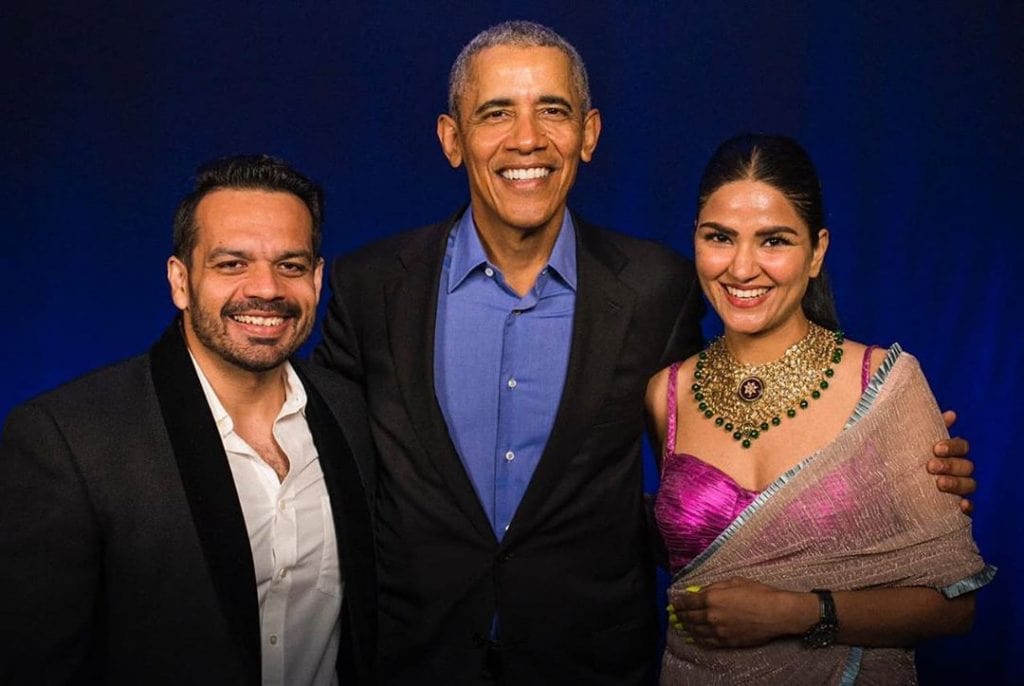 Q8) Can you give us a little sneak peek about your native place?
I belong to a village named Nindana in Haryana. But I was born and brought up in Gurgaon, we do visit our natives very often.
Q9) Do you ever contemplate becoming a full-time YouTuber/Instagram influencer?
No, I never contemplate being a full-time influencer. "Flying is my passion, I might reduce my flying hrs but will follow my passion".
Read Story: Gaurav Taneja AKA FlyingBeast creates new 40-minute record! Rasbhari Ke Papa
Q10) What were your favorite food joints in Delhi?
I am not too foodie. But yes wandering in the lanes of Chandni Chowk and having those Parathas, Gol Gappa, and the street food, makes me happy.
Q11) You spent your college days in Delhi. What about the city do you like the most?
Kahawat hai Dilwalon ki Delhi. I love the apnapan, Delhi ki halchal.
Q12) What are the top three destinations you would suggest people visit?
Kashmir, Maldives, and Arunachal Pradesh
Q13) Tell us one thing you would love your daughter to learn from you.
To be strong, wise enough but at the same time to be a good human being. It is very important not to lose your internal voice. She should never forget the love for society or the people while racing for progress. I just want her to stay kind and be a very smart girl.
Q14) What Indian destinations are still on your bucket list?
There is a lot on our list, we are on our toes to promote Indian Tourism. Indian is so unexplored there are so many places to visit in India. We have explored Arunachal Pradesh, Assam. And now we are about to explore Tripura, and soon we would be in Madhya Pradesh.
Q15) Any plans?
To work hard, to stay consistent and to promote Indian domestic tourism, and to let people know that there are many unexplored places in India.
Her youtube video when she went into Labor Pains.
StartoCure is the online entrepreneurial magazine platform, where the team brings you interviews & Stories of Entrepreneurs, Inspirations, Influencers, Startups eco-system & Change-makers. StaroCure is also committed to bringing resources, research reports, funding reports, and analysis of the startups, as well as profiles of great businesses & entrepreneurs from all over the world.
Note: If you have a similar story to share with our audience and would like to be featured in our online magazine, then please write to us at hello@www.startocure.com, we will review your story and extend an invitation to feature if it is worth publishing.
You may also like: