Ashita Gandhi & Akhil Prasad are the Co-Founders Of Women Entrepreneur Stories, an initiative who do support small womenpreneur by providing them a platform to showcase their products and also helping them in sales by listing their products on the website for free.
Today we got a chance to interview the duo, let's learn more about them & their inspiring initiative.
We hope this can inspire you to become a successful person too! It is worth listening to a successful entrepreneur or to people who share their success stories. We can significantly learn many things from their experiences, by listening to their story.
Excerpts from our exclusive interview with the duo:
Q1) Tell us a little bit about your start-up and your journey, please;
We, Women Entrepreneur Stories, are here to support all the small business owners by providing them a platform to showcase their beautiful products and also help them in sales by listing their products on the website for free. This will help all the businesses in reaching a wider audience, creating awareness, and in sales.
We want to build a community of women entrepreneurs. We want the world to know your entrepreneurial journey, your hardships, your struggle, and your views on success. Our aim is to grow this community to an extent where we can help each other grow, support each other, and constantly evolve.
Q2) How did the idea for your business/startup come about?
Our journey started in July 2021. We were looking for gifts and other items for the families and we didn't find a platform where we could browse through all the different products. That's when it clicked to us that we could start an Instagram handle to create a community and promote women entrepreneurs.
We are budding entrepreneurs. We are passionate about every idea out there that's to bring change in the community. We are those individuals, who draw inspiration from other entrepreneurs and their work. What interests us is their journey more than their destination.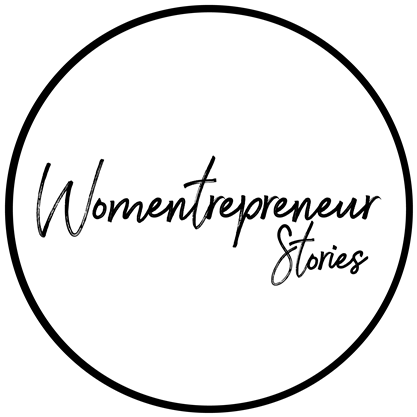 Q3) What was your key driving force to become an entrepreneur?
The drive to help women entrepreneurs was the key force to become an entrepreneur. Before we started womentrepreneurstories, we were small business owners too who helped businesses go digital by making websites, logos, etc, and also a homegrown business, Samakhomemade.
We know the struggle and hardships we faced while running our business. Similarly, there are so many women entrepreneurs who face issues and struggles on daily basis. We just wanted to help them as much as we can through womentrepreneurstories.
Q4) How did you come up with the name for your business/startup?
The name of the business is directly related to the mission and vision of the business. We started as a platform that promotes stories of women entrepreneurs across India. We believe in simplicity that's why we decided our business name should be exactly what we do.
Q5) What service(s) or product(s) do you offer/manufacture?
We promote home-based products from small businesses across India. Our main services include promoting their products, listing products on the website, running giveaways and contests for the businesses on a wide range (gifts would be from one of the women entrepreneurs), & much more.
Q6) Why should people choose your product/services?
There are various reasons why people must choose these products/services.
You will be supporting a small and local business.
The products can be customized as per the client's needs and requirements which allows them to get a personalized feel.
The businesses provide exceptional customer services and prices can be negotiated which makes it affordable.
Most of the businesses are home-based and contain no harmful, toxic materials.
Q7) What is your business revenue model?
Currently, we are just promoting women entrepreneurs at no charge. We aren't focused on our earnings as of now. We believe it's more important to have a platform that supports them in every way possible rather than earning from those businesses who work so hard just to get recognition and sales. So we provide them the platform, to help them have more awareness and sales. We also launched a website on which they can list their products for free.
Q8) What risks are you facing?
Some of the minor risks include- Economic risk, as we aren't earning from the platform we started, as the main focus is to support women-led businesses. Also, there is competition risk, as there are other major platforms working on the same model, but we know about our uniqueness and think that will help us achieve success soon.
Q9) Did pandemic (COVID-19) affect your business? if yes how?
Covid didn't affect us as we started in July 2021 to help the businesses that were affected by COVID, instead, we saw this as an opportunity to enter the market and make our spot.
Q10) Have you considered any alliance/partnership/funding?
We haven't thought about it yet. But moving forward, we are looking to expand it further and we will look for an alliance or funding to run our business.
Q11) How are you planning to sustain it in the future?
Our plan so far has been to help women entrepreneurs and their small businesses without charging any fees. So we will continue to support these amazing and wonderful entrepreneurs, by promoting their products, listing their products on the website, sharing their amazing journeys.
We have various plans for growing this business in the market and sustaining it at different levels of competition and situations.
Slowly, we are planning to get employees on the board and are planning to collaborate with various brands and reach out to them every small business to help them grow in every way possible, also organize a few events with the Women Entrepreneur either online or offline, raise some funds moving forward and if needed (mostly that won't be anytime soon)we can start with subscription model by charging minimal fees from the businesses.
We are pretty sure, our team will achieve it and grow it big in this tough market.
Q12) What are your responsibilities as the business owner?
We, as business owners, have the complete responsibility to maintain our reputation and social presence, on various platforms. Starting from connecting with entrepreneurs to share their journey, creating social media posts, promoting their story, listing their products on our website, maintaining the website. following up with customers for order tracking, order purchase, and more.
Q13) What is your greatest fear, and how do you manage fear?
Our greatest fear is losing the authenticity of our business. We manage it by constantly working towards being honest and transparent with our women entrepreneurs.
Q14) What comes first for you money or emotions?
So far, emotions have been our greatest strength. On a personal level, we believe that money is crucial for any business to thrive in the market. However, emotions have played a major role in our success so far. Hence, emotions come first to us 🙂
Q15) Tell us about your early life & How has being an entrepreneur affected your family life?
Early life – We are two of us working on Women Entrepreneur Stories. We both are engineers by profession and were always keen on starting our own business during our college days. Until 2019, we didn't take it seriously, but when covid hit in 2020, we thought it was the best time to start a business as we were all stuck at home. Both of our lives have changed greatly since we started our first business.
Being an entrepreneur is definitely rewarding but it is as stressful as well. Our focus was to just work and find more and more clients to establish the business. Our families were not greatly affected, however, our life definitely changed a lot of things including perspective, learnings, and lessons that we will keep with us forever.

Q16) What piece of advice would you give to college graduates who want to become entrepreneurs??
Being an entrepreneur is not easy. You will face difficulties throughout your journey but if you have what it takes, then just go for it. Also, you don't have to quit your job to pursue whatever you want to. You can start small, test your product or services with family and friends. It's also important to keep your mental health in check as a lot of the entrepreneurs get exhausted and quit. So, be proactive, learn from your mistakes and fail a million times before you get on top!
---
StartoCure is the online entrepreneurial magazine platform, where the team brings you interviews & Stories of Entrepreneurs, Inspirations, Influencers, Startups eco-system & Change-makers. StaroCure is also committed to bringing resources, research reports, funding reports, and analysis of the startups, as well as profiles of great businesses & entrepreneurs from all over the world.
Note: If you have a similar story to share with our audience and would like to be featured in our online magazine, then please write to us at hello@www.startocure.com, we will review your story and extend an invitation to feature if it is worth publishing.
StartoCure.com strives to share every positive information which would benefit our readers. However, one must do their own research & take own responsibilities before taking any actions. Read Our Full Disclaimer