Dr. Anjana Vinod is the founder and director of Impact Enhancer, where she helps breast cancer survivors to gain their self-confidence and inspires them to never give up. She has been a cancer survivor and hence connects with empathy with ease.
She is also an Author, Speaker, Image Consultant, and Corporate Trainer. Today we got a chance to interview her, let's learn more about her inspiring journey and business.
We hope this can inspire you to become a successful person too! It is worth listening to a successful entrepreneur or to people who share their success stories. We can significantly learn many things from their experiences, by listening to their story.
Excerpts from our exclusive interview with her:
Q1) Tell us a little bit about your start-up and your journey, please;
Having been diagnosed with breast cancer 18 years ago and being the pillar of strength for my family fighting the disease with a very positive mindset and recovering completely from it. My doctor asked me to speak to a couple of other patients who were very low on their morale, and that's when my journey as the only breast cancer coach in India started.
Q2) What was your key driving force to become an entrepreneur?
I've always been very passionate about training and never wanted to start a training company where I hired trainers to do something that I love to do hence the best option was to work as a freelance trainer collaborate with training houses and deliver training programs across industries.
Q3) How did you come up with the name for your business/startup?
Creating an impact on people was something I was anyways doing I wanted to enhance that impact and thus impact Enhancer was born.
Q4) What service(s) or product(s) do you offer?
As a freelance corporate trainer, I deliver training programs across levels across industries on soft skills leadership design thinking emotional intelligence confidence-building public speaking, and motivation. I'm also a keynote speaker at multiple national and international forums. an adjunct faculty at multiple B schools in India and internationally I specialize in faculty development programs helping faculty bridge the millennial generation gap.
Q5) Why should people choose your services?
Coming from a theater background and another storyteller I tend to merge both these and create a high impact training modules experiential learning for me has been one of the key fortes I use activities I understand the pulse of the audience and accordingly we win a story for them to have a very strong recall of what they did during the session.
Q6) How do you market your business, and which tactics have been most successful?
Being a story, Blogger I write stories every day on LinkedIn Instagram, and Twitter a lot of visibility for my name is constantly there on the minds of people being and high energy clapped with a sense of humor has been my forte in delivering these programs a lot of my clients recall my programs because of the energy that I bring in to the table and that is the word of mouth reference which gets me a lot of more business.
Q7) Did the pandemic (COVID 19) affect your business? if yes how?
Honestly pandemic did not affect me directly in any manner I constructively utilize my time in upgrading myself and learning a new skill while being agile gave me the flexibility of moving to an online training module very easily pandemic was the right time when people needed positivity happiness and to connect with people and hence whether it was cancer coaching being a positive mentor or delivering corporate training programs on an online forum including faculty development/engagement programs and student development programs my calendar was practically full.
Q8) How many hours a day do you work on average & can you describe/outline your typical day?
I'm somebody who's driven by passion so for me, my work has never been worked I have loved doing what I do.
A typical day for me would start at 3:30 in the morning when I finished my morning routines and meditate for around half an hour to 40 minutes post I write my story blogs which get published every single day in the morning before 5 and then get on to my routine work of planning my day and accordingly preparing for the rest of the day a typical day would end anywhere between 8:30 to 9:00 o'clock but if I have university lectures or international programs they do end at 10:30 in the night I'm generally very early to bed person so crash by around 9:15/ 9:30 or latest by 11.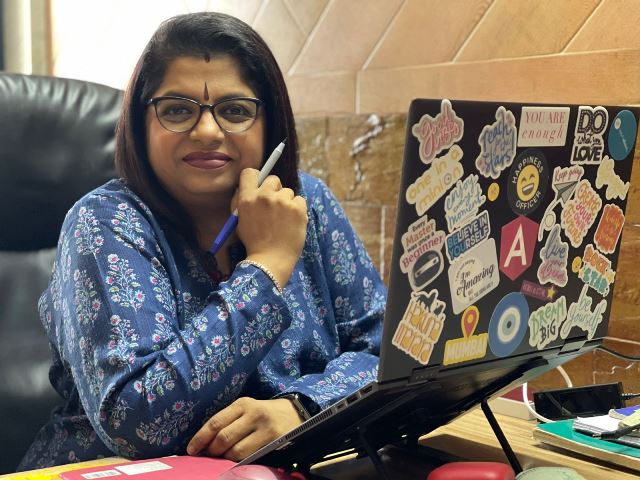 Q9) What piece of advice would you give to college graduates who want to become entrepreneurs?
I always tell all my students to do what they love to do because the moment you start enjoying what you're doing money will tend to follow chasing money at the initial stages of your career without having a learner's mentality would not give you the results you're looking out for being a learner all your life and growth is guaranteed to follow you.
Q10) How do you manage to stay positive and happy always? Is it even possible?
Honestly staying positive every time is definitely possible it's a matter of a choice that you make every morning that you get up what kind of a day would you like to lead number one number 2 the choice that you make is whether you want the world to have the control in deciding how you should feel being happy being positive not worrying about the world around you but being worried about your own self. I think is one of the most critical factors if you are happy everything around you tends to be happy but if you are disturbed everything around you tends to be disturbed it's a choice that you make do you want to give control of your happiness to somebody else or do you want to be the custodian of your life.
so staying positive is definitely a possibility and feeling negative at times is also a very natural trait the question is how long do you want to stay upset stay disturbed with the thoughts that are bothering you it's a choice of choosing to be positive looking at the brighter side of things and moving ahead to quote a simple example when I have diagnosed with breast cancer the positive side of it was it was in the breast which means it could be cut and through I was financially confident and stable in terms of my family's financial condition we could afford the disease you have a choice can you look at a positive even if the scenario is worse.
Follow Dr. Anjana Vinod Kumar @
StartoCure is the online entrepreneurial magazine platform, where the team brings you interviews & Stories of Entrepreneurs, Inspirations, Influencers, Startups eco-system & Change-makers. StaroCure is also committed to bringing resources, research reports, funding reports, and analyses of the startups, as well as profiles of great businesses & entrepreneurs from all over the world.
Note: If you have a similar story to share with our audience and would like to be featured in our online magazine, then please write to us at hello@www.startocure.com, we will review your story and extend an invitation to feature if it is worth publishing.
StartoCure.com strives to share every positive information which would benefit our readers. However, one must do their own research & take own responsibilities before taking any actions. Read Our Full Disclaimer