Dilip Kumar Shrivastava is the CEO & Founder of Kreiva Interactive. In Kreiva Interactive he offers multiple types of digital products. Today we got a chance to interview with him.
We hope this can inspire you to become a successful person too! It is worth listening to successful entrepreneur or to people who share their success stories? We can significantly learn many things from the experiences of them, by listening to their story.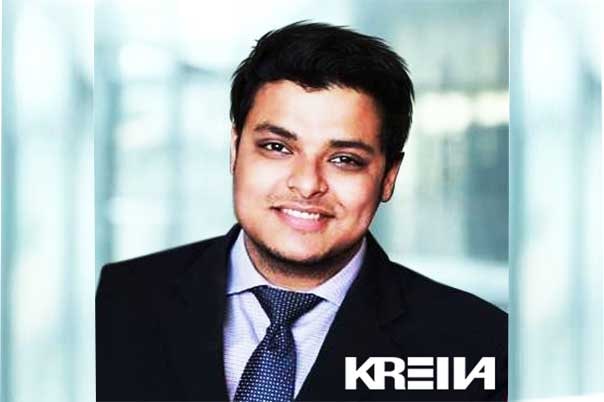 Excerpts from our exclusive interview with him:
Q1) Tell us a little bit about your startup and your journey, please;
Having a startup named KREIVA INTERACTIVEdesignated as Chief Executive officer and founder. Kreiva Interactive is one of the emerging media entertainment houses that offers the entire range of entertainment design services like storyboarding, Concept art and Visual Development for Feature films, Animation movies, Video games and TV Commercials.
Q2) What makes you get out of bed in the morning, i.e. What is your motivation?
Self-analysis is the key of living a good life. this is what I believe, we all need to analyse our self and must have to spare a time for us to think and analyse our Do's and don'ts, our strength and weaknesses and an how to overcome our weaknesses to strengthened our strength. So morning is the best time for it. If you will do this, then automatically these things will give you self-motivation.
Q3) Why should people choose your product / service?
Every person thinks or visualize in a different way, may be they can visualize a very much closure visuals to your visual but not the exact result. That mostly happens in creative sectors like animation, feature films, video games. That make challenge is" how to show the exact visual result or final prototype to the entire team who are involve to create the mutual result. So with the help of concept design or doing the visual development this chaos would be overcome and reduce the time consumption to get to work and we are here with the solution and apart from that I would like to add that we believe in creation the cutting edge quality and create benchmarks in our services we provide.
Q4) What services or products do you offer / produce?
We are very much core into designing (not the fashion design). We are into entertainment and industrial design that designs concepts, characters, environments and props for feature films, animated movies, video games and TV commercials.
Q5) What risks do you face?
List is too high, obviously it's a start-up firm, not very much recognised. Vision is very different, concepts art very different(in India).not getting a relevant manpower to multiply the productivity and serving more and more results and yes we do have solutions also, that we are working on it. If you are not getting the relevant manpower, "yes it happens when you starting something which is very new thing", you have to generate the manpower by giving them training and providing tem skills according to your requirement so it takes time also to bring that into shape. you have to wait by having patience to transform them in productive, this stream is not very much aware by the people so we are promoting the stream apart from doing projects, so these kind of complications we are facing to make it saturated.
Q6) Have you considered any alliance / partnership?
Yes, we are having alliances 2,3 emerging studios are there, but we are focusing on educational institutes as well to trained the manpower for future.
Q7) What comes first to you – money or emotions?
I try to keep both the things in a balancing manner, both are equally essential for our life, when you are capable to move your body money will give you Joy and when you will be old, along with money, emotions and human value matters to you a lot, so keep both the things with you is a better option. Earning or making money is OK, but giving value to the emotions is a good future investment, this is what I believe.
Q8) What are your cash flow forecasts? When will you break even? How much investment will you need?
Lol, frankly I never thought about a particular number for the cash flow projections, I am expecting that the firm along with the workers who are involving themselves into this, will make a good money, Everyone will live happily, work happily and will have job security and work like a beast for a cutting edge productivity, I am from artist background, so rather that talking on numbers, My motto for the company is in this way.
In future we need investments when we will stepping into IP(product based). Currently we are service providers.
Q9) What are your strengths and weaknesses?
Why i should reveal my weaknesses and strengths LoL.Its confidential, Chanakya said not to reveal.
Q10) Tell me about the achievement that you are most proud of?
I am too young for this to tell my accomplishment that i am most proud of it, proud sounds bit negative. I have milestones and I keep doing and completing it, each milestone teaches me some new lessons, one thing that gives me satisfaction is, finally I started what I aimed for a very long time. I have done over 60 TV commercial projects in last 2 years, we have been steeped into animation projects, video game projects, and so these are the milestone that keeps on updating and accomplish, endless milestones. But I am not proud of it.
Q11) What advice would you give to the one who starts?
Intense hard work is good, but doing intense hard work on a right track will be result oriented. You should have a consolidated constructed path of what to and how to do before starting out. Once your vision for your start will be consolidated, then go for it. but before starting it out. Do the proper analysis rather than choosing it by trend.

-Dilip Kumar Shrivastava
Follow Him & His Company At:
---
StartoCure is the online entrepreneurial magazine platform, where team brings you Interview & Stories of Entrepreneurs, Inspirations, Influencers, Startups eco-system & Change-makers. StaroCure also committed to bringing resources, research reports, funding reports and analysis of the startups, as well as profiles of great businesses & entrepreneurs from all over the world.
Note: If you have a similar story to share with our audience and would like to be featured on our online magazine, then please click here & follow the steps , we will review your story and extend an invitation to feature if it is worth publishing.
You may also like: