Arpit Khandelwal & Ankit Agrawal are the Co-founders of NeoDove, an incredibly powerful Telecalling CRM and Sales Engagement Platform for your telecallers to increase their efficiency and help them convert more.
Today we got a chance to interview with them, let's learn more about NeoDove & its game-changing journey.
We hope this can inspire you to become a successful person too! It is worth listening to a successful entrepreneur or to people who share their success stories. We can significantly learn many things from their experiences, by listening to their story.
Excerpts from our exclusive interview with Arpit Khandelwal & Ankit Agrawal:
Q1) Tell us a little bit about your start-up and your journey so far, please.
Arpit Khandelwal: NeoDove Technologies Pvt. Ltd. was formally incorporated on January 14, 2020, however, it all began back in December 2019 when Ankit Kumar Agrawal and I got together to brainstorm a solution that would help businesses to reimagine their telecalling process and be a game-changer for millions of SMBs.
These past two years have been beyond incredible, we've seen tremendous growth in team size, customer acquisition, and revenue, and we had raised a $1.5 Million seed round in March 2020. It has been gratifying to watch our vision near reality, and every day has brought both accomplishments and learning opportunities.

Q2) Where did the idea for your startup come from?
Arpit Khandelwal: Before founding NeoDove, I led my family's automobile dealerships and Ankit was a Tech Lead at CarDekho, we saw firsthand the difficulties organizations faced without the right solutions.
It is important that a solution matches the process for which it is being implemented and in the case of telecalling, the right solution was lacking.
The challenges we encountered sowed the seeds of NeoDove – a telecalling CRM and sales engagement platform that helps businesses increase their sales by streamlining their calling, lead management, and customer engagement processes.
Our goal was to create the right combination of an engagement tool and a CRM without adding unnecessary complexity. As part of our solution, we offer a lead management system that functions as a CRM, along with various features such as multichannel communication and integrations that advance outreach and engagement.
Q3) What is the significance of the name NeoDove?
Ankit Agrawal: The word 'Neo' means new, and 'dove' is associated with peace and message. NeoDove can then be defined as "a new way of communicating or engaging".
Q4) Why should people choose your product/services?
Ankit Agrawal: Our flexible approach to providing solutions to our customers is one characteristic that makes us unique. Our users highly value our product's versatility, comprehensiveness, and focus on telecalling essentials.
Furthermore, our customers are not limited to just NeoDove's features. Our platform allows users to access services like IVR, bulk SMS, cloud telephony, etc. directly rather than having to switch between multiple platforms.
There is often a lack of trust among customers when it comes to using certain software solutions. The reasons can vary from incomplete product walkthroughs to inconsistent assistance to unfulfilled promises, and so on.
The last thing we want is for our customers to endure all of this. As part of our commitment to providing a first-class customer experience, we have paid great attention to our Customer Success Team. Our CS Team takes a consultative approach in assisting customers in finding and resolving any issues they may encounter.
Q5) How did you overcome the challenges brought by COVID-19?
Arpit Khandelwal: We started out during a pandemic, which would change the concept of normality forever. With everything coming to a sudden halt and remote working becoming the norm, there was a great deal of confusion as to what to expect next.
We onboarded our first customer in the midst of a lockdown, and it is during this same period of uncertainty that our customer was able to connect with more than 100,000 customers.
Our solution was designed to enable teams to work from anywhere without having to face any hassles. And this is exactly what helped us as well as our customers to overcome the challenges brought by these uncertain times.
Q6) How is your business helping make a change in society?
Ankit Agrawal: The SMB sector still has many segments that remain underserved in terms of technology despite being considered a cornerstone of our economy. Through our solution, we are attempting to fill this gap, and our ultimate goal is to empower millions of businesses.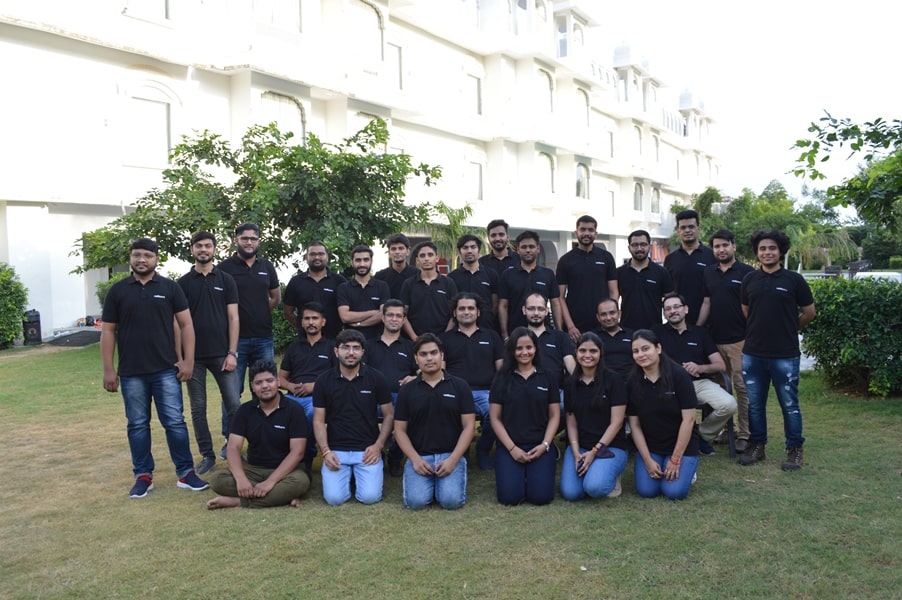 The telecalling/contact centre sector is rapidly growing, and one of our unwavering goals is to create employment opportunities for the women associated with this growing sector and to empower at least 5% of users in tier 3 and tier 4 cities.
Q7) Is there any advice you would like to give college graduates who wish to become entrepreneurs?
Arpit Khandelwal: Discipline is crucial regardless of one's career path. So, keep going no matter what, because delaying action will only push you further from your goal.
Follow NeoDove @
StartoCure is the online entrepreneurial magazine platform, where the team brings you interviews & Stories of Entrepreneurs, Inspirations, Influencers, Startups eco-system & Change-makers. StaroCure is also committed to bringing resources, research reports, funding reports, and analysis of the startups, as well as profiles of great businesses & entrepreneurs from all over the world.
Note: If you have a similar story to share with our audience and would like to be featured in our online magazine, then please write to us at hello@www.startocure.com, we will review your story and extend an invitation to feature if it is worth publishing.