Sidharth Jain is the CEO & Founder of Graffersid, an IT Company with a tailored process for mission-driven startups. Sidharth actively helps and mentors many tech startup founders, he also manages an active community of 50,000+ entrepreneurs across platforms. Today we got a chance to interview him, let's learn more about him.
We hope this can inspire you to become a successful person too! It is worth listening to a successful entrepreneur or to people who share their success stories. We can significantly learn many things from their experiences, by listening to their story.
Excerpts from our exclusive interview with Sidharth Jain:
Q1) Tell us a little bit about your start-up and your journey, please;
I am Sidharth Jain, from Barwah city, in Indore. I am a proud Founder and CEO of GraffersID, an award-winning web, and mobile application development company. It was established in the year 2017.
The motive behind starting my own company is to increase the startup's success rate and influence emerging technologies. I am more into technologies and I always wanted to help aspiring entrepreneurs in growing their businesses.
The starting years of launching a company were tough for me as most of the work was handled by myself but nothing was impossible. Gradually, we converted the GraffersID team from 4 to 100+ employees within a few years. And from then till now, we are working hard to provide qualitative, affordable, and timely services to our customers.
Q2) How did the idea for your business/startup come about?
Though I always had a thought of helping startups through the latest technologies, there was an incident that made me change my thought into reality.
During my MNC days, there was a colleague of mine who was sharing his bad experience about how his product is not making expected reach in the market. Then, I realized that everyone is running behind the technologies already in use, No one is experimenting for learning about the new trends and technologies.
So, I decided to start my own company and help startups in growing their businesses.
Q3) What was your key driving force to become an entrepreneur?
My love for coding and my passion for learning trending technical skills and experimenting with them for better use. After I completed my first job, I realized that I am meant for growth and I have to explore myself to build a successful career.
Q4) How did you come up with the name for your business/startup?
We wanted a team of individuals with innovative ideas for product development and designing. GraffersID team signifies the talented, brilliant, and creative developers and designers who brainwave the conflicts to bring out positive outcomes.
Q5) What service(s) or product(s) do you offer/manufacture?
GraffersID provides web and mobile development companies along with Design services. We also offer dedicated remote developers. Besides, we help businesses after launching the product through SEO and maintenance support.
Q6) How do you market your business, and which tactics have been most successful?
Professionally, we have a marketing team that concentrates on making our business reach other differential platforms. Our marketing team consists of an SEO executive, a digital marketer who works on our company page, and the engagement they have on all social media platforms.
Besides, our daily work routine involves a one-hour brainstorming session where each team member gets involved in deliberating innovative and useful ideas.
Q7) Did pandemic (COVID 19) affect your business? if yes how?
Pandemic has affected many startups and established businesses positively and negatively. Most of the businesses faced downfall during Covid-19. But, for GraffersID, pandemic left no negative impact. We grew a lot during the lockdown, we hired many candidates who were looking for jobs or internships. We experimented with ideas given by our teams to make our company visible on google.
In nutshell, the pandemic phase was optimistic for our business.
Q8) What are your responsibilities as a business owner?
There are no specified roles and responsibilities if you own the company. My core responsibility is to keep track of the growth and stability of the business. I have to actively perform what comes in my way. Managing meetings, buying trips to purchase inventory, daily updates of the business operations, keeping track of timely product delivery, all can be defined as the business owner's responsibility.
Q9) How many hours a day do you work on average & can you describe/outline your typical day?
We work for 9 hours and 5 days per week. And, as the CEO of the company, there are no flexible working hours defined. Many times, I have to sacrifice things because work comes first.
Q10) What comes first for your money or emotions?
Money and emotions both are significant in their terms. Money is an essential need for living and emotions are a part of your life. Money helps you to develop financially while emotions help you in personal development. With time, I learned to value both Money and Emotions. Each has its significance in a person's life. And, as a normal human and an entrepreneur, I know my priorities and I act accordingly.
Q11) Tell us about your early life & how has been an entrepreneur affected your family life?
Entrepreneurial life is completely different from normal living. You don't get time for your family because of the busy work schedule. But, I somehow managed to have time for my family and interact with them. In short, I learned to prioritize work-life balance.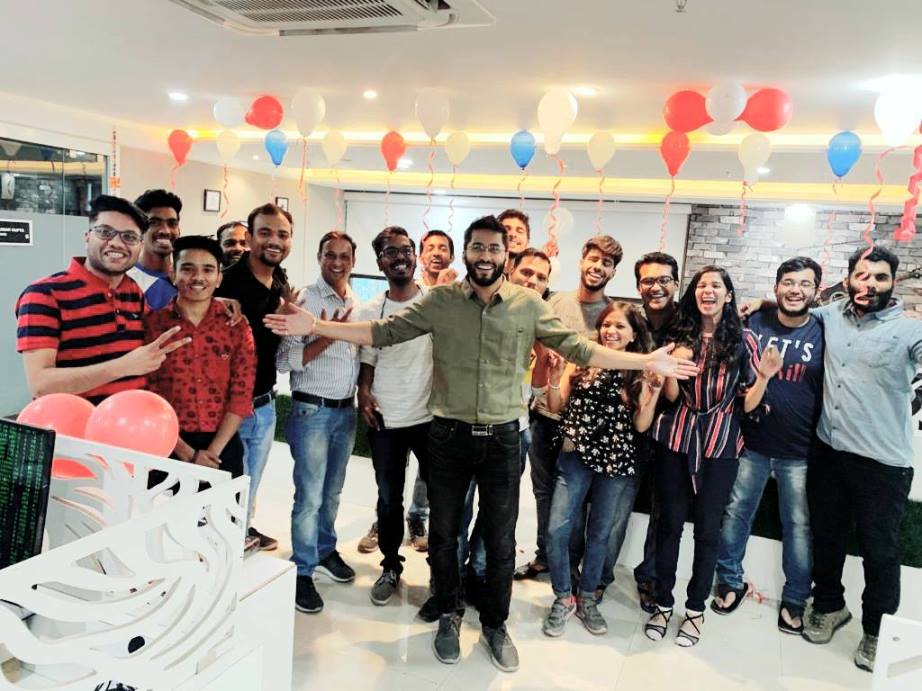 Q12) What piece of advice would you give to college graduates who want to become entrepreneurs?
'Never give up attitude. I will suggest that determined entrepreneurs keep moving forward even if they fall. In situations where you feel like giving up think about your goal, your efforts you put into reaching this stage where you are standing. Also, analyze your mistakes from the records but don't let them affect your present.
Follow Him@
StartoCure is the online entrepreneurial magazine platform, where the team brings you interviews & Stories of Entrepreneurs, Inspirations, Influencers, Startups eco-system & Change-makers. StaroCure is also committed to bringing resources, research reports, funding reports, and analysis of the startups, as well as profiles of great businesses & entrepreneurs from all over the world.
Note: If you have a similar story to share with our audience and would like to be featured in our online magazine, then please write to us at hello@www.startocure.com, we will review your story and extend an invitation to feature if it is worth publishing.