Rohan Garg is the CEO & CO-Founder of Tecidexa. He is one of youngest entrepreneurs in India & soon he is going to launch one of his product, OPFS (One-point for scheme). Today we got chance interview with him. Lets read more about his life & his entrepreneurial journey:-
We hope this can inspire you to become a successful person too! It is worth listening to successful entrepreneur or to people who share their success stories? We can significantly learn many things from the experiences of them, by listening to their story.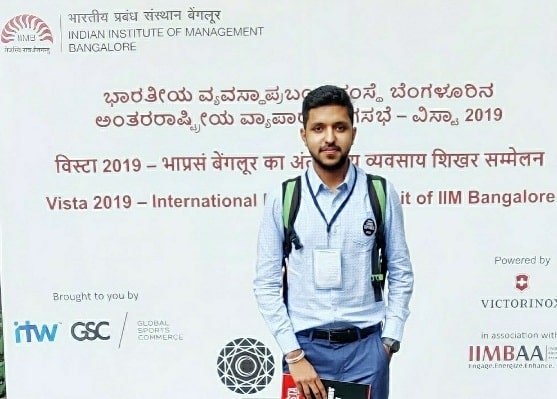 Excerpts from our exclusive interview with him:
Q1) Tell us a little bit about you & your entrepreneurial journey, please;
I am 20 years old and I come from Raigarh, Chhattisgarh but currently living in Bangalore. Journey to this extent has been great and is really interesting. My company is all about my whole life experiences and what I learnt all the way growing up. I just combined all of it. This idea came from all the real-life problems I faced throughout my journey till here.
Currently I'm the Co-founder & CEO at Tecidexa Services Pvt. Ltd. And our product which is going to launch soon is OPFS (One-point for scheme).
I studied in Carmel Convent School in Raigarh, Chhattisgarh from 1 grade to 7 grade, then migrated to O.P Jindal School and studied there from grade 8 to grade 12. I was in search of my passion and came to Bangalore and took admission in BMSIT College.
Q2) Tell us about your startup (Tecidexa)?
We are a group of inspired, young entrepreneurs looking to transform the tech industry. Whether you are an individual with an idea, a startup or a fully-fledged corporate, tecidexa always has the right solution for you! Here's a glimpse of what we do
Q3) Story behind of Restroin (your first product)?
Let me take you through where and how all of this started. One day i visited Koramangala(One of the famous place of Bangalore, Karnataka) with my friends & i saw a huge crowd was standing outside the restaurant with their families, friends and couples. So, I thought that even in this century where there is artificial intelligence, robotics and huge application-based market still people are waiting for long time for just a table and they are not finding a simple solution. As in this Technology what I can contribute. So, this idea sparked that I can do much more So, me & my Team came with the idea of Restroin to help people optimize their time & Enjoy their every dine.
At Restroin every Hour is Happy Hour.
Soon after started I failed in my first venture but I never gave up because Giving up is the only sure way to fail.
Q4) Tell us bit about your product OPFS & crucial time of life?
In the month of August – 2019, I met with an accident where my jaw and leg got fractured and this is the worst phase of my life where it took 3 months to recover but during this period of time I came up with new idea.
OPFS (One-point for Scheme), we are a social enterprise provides an Interactive Aadhar and user profile-based application which brings both scheme seekers and scheme givers at one common platform and helps people to search scheme in which they are eligible for and we help citizens to apply for the schemes to ensure last-mile support.
I took participate in national level hackathon and won the best concept solution across Karnataka.
Our vision: To ensure quality life for the citizen of India. That's what I am trying to achieve through my startup.
Q5) What gets you out of bed in the morning i.e what's your source of motivation?
My Vision and My to-do list – I love to right tick those tasks i saved on my list. This list is the first thing that comes to mind when i wake up every morning. And I cannot go back to sleep until i have finished it.
Q6) What service(s) or product(s) do you offer/manufacture?
We are providing various services, Some are followings:-
Schemes Listing :- Access to listed and recommended Schemes
Application Support :- Form filling and application support
Email & SMS Alerts :- Email and SMS alerts of matching Schemes
Q7) What risks are you facing?
Establishing a reputation on the internet will be challenging.
Q8) Have you considered any alliance/partnership?
Yes, I'm always open for Alliance/Partnership as collaborating and working will help mutually in achieving goals.
Q9) What comes first for you money or emotions?
I would go with emotions. That is because my focus has always been on helping people.
Q10) What advice would you give to someone starting out?
A Startup needs time more than money, so be patient. Hard work always pays off. Don't focus primarily on investments but keep your focus on creating a sustainable venture, rest things will automatically set with time. Deliver more than expected even though you might have to work a bit more. Just be persistent and do not give up everything will fall in place.

Rohan Garg
Follow Him & His Website At:
---
StartoCure is the online entrepreneurial magazine platform, where team brings you Interview & Stories of Entrepreneurs, Inspirations, Influencers, Startups eco-system & Change-makers. StaroCure also committed to bringing resources, research reports, funding reports and analysis of the startups, as well as profiles of great businesses & entrepreneurs from all over the world.
Note: If you have a similar story to share with our audience and would like to be featured on our online magazine, then please click here & follow the steps , we will review your story and extend an invitation to feature if it is worth publishing.
You may also like: