Meet Rajat Dasgupta | Man Behind Gamified E-commerce startup KhelGuru & TrendiByte!
Rajat Dasgupta is the co-founder of two startups, one is KhelGuru, a gamified eCommerce startups & another one is Trendibyte, where desires to provide top notch services in IT & internet marketing services to both Indian & oversees clients. Today we got chance interview him, lets know more about him & learn from his experiences.
We hope this can inspire you to become a successful person too! It is worth listening to successful entrepreneur or to people who share their success stories? We can significantly learn many things from the experiences of them, by listening to their story.
Excerpts from our exclusive interview with him:
Q1) Tell us a little bit about your start-up and your journey, please;
We have started the gamified eCommerce startup in Dec 2018. The next whole year was a roller coaster period, where we design & developed full customizable eCommerce website for this started. And we developed many games, linked to the website one by one. We tested out things and keep updating it as per the testing outputs.
Q2) How did the idea for your business/startup come about?
The idea came for the start up when we realized that people play games but they are not getting any tangible benefits. And if we can come up with a solution where they get the advantage of their playing time and link it with their shopping we can get a wide range of users from gaming as well as from shopping.
Q3) What was your key driving force to become an entrepreneur?
The key driven force for me to become are following:-
Challenges to take DECISION
Creating & motivating a TEAM
Flexibility to WORK
Control over the DECISIONS
Creating a better ENVIRONMENT
Q4) How did you come up with the name for your business/startup?
As it was related to gaming and we were primarily targeted customers are from India. We came up with a name KHELGURU, which is actually represents our target place & as well as our business model.
Q5) What service(s) or product(s) do you offer/manufacture?
In eCommerce we are looking for marketplace model where we have various vendors list their products on our website and we bring gaming users and give those tangible benefits to users for shopping at better discounted prices. VOCAL for LOCAL will be the MOTTO.
Q6) Why should people choose your product/services?
They earn by playing games and they can use the earned amount for additional discounted shopping. Users can get better rates compared to other shopping websites.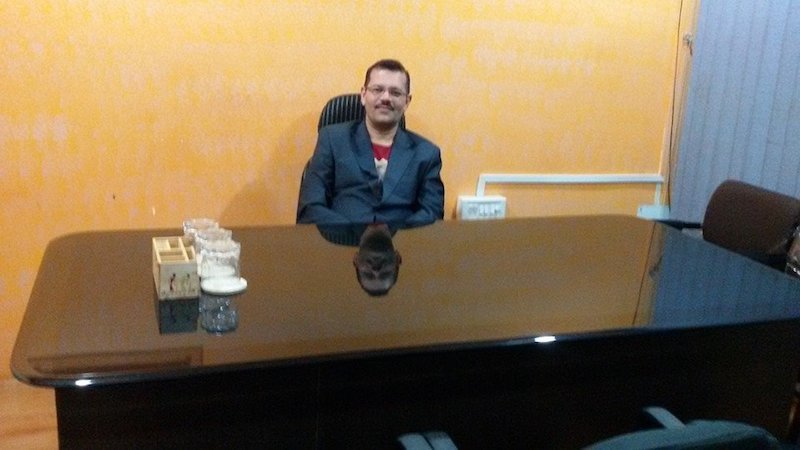 Q7) How do you market your business, and which tactics have been most successful?
We marketing our business through the various marketing strategies, some are following:-
Branding
Social Media
Whats-app Marketing
Video Marketing
With this help we have acquired 100K + users in only one business year & soon we are going to expand to other channel after our first round of seed funding.
Q8) What risks are you facing?
Aadhaar API where we can ask user to verify them directly with Aadhaar udai portal,  Paytm where we can identify his as a paytm user also. Also tightening up the web, api security to make the system more robust and safe for any hacks.
Q9) Have you considered any alliance/partnership/funding?
Yes funding is certainly on cards we have already in talks with 3 investment firms and got the validation. Keeping fingers crossed to get this startup to the next level.
Q10) What are your responsibilities as the business owner?
As a Co-Founder and Principal Strategist responsibilities are:
Formulation and implementation of a strategy.
Progression of projects in support.
Supervision and coordination between various departments.
Analise and review the plan time to time.
Various Tie ups to make the brand stronger.
Investor relations.
Q11) How many hours a day do you work on average & can you describe/outline your typical day?
Average if considered it can be 12 hrs but as per the demand it varies as a business owner, I feel they work 24×7 as even when you are trying to relax still your mind always keep thinking for the business. A typical day starts at 11 am on desk and desk work ends by 8pm and after dinner it's time to think what better can be done planning making the next strategies takes another 2-3 hrs before I go to bed.
Q12) What is your greatest fear, and how do you manage fear?
Greatest fear is maintaining the success you achieve and that drives one to keep working hard. Managing it is not tough as you need to be self motivated and keep working smart to maintain and get the success higher.
Q13) What comes first for you money or emotions?
Money is an important factor now a day but emotions comes first. But yes it must be a right balance between both the things.
Q14) Tell us about your early life & How has being an entrepreneur affected your family life?
Born on 30th April 1971 in a small city named Jabalpur in Madhya Pradesh, India. I finished my schooling from Model High School, Jabalpur and after completing high school joined Tata Motors as apprentice in Machinist trade. The three year experience with them was very handful when I summarize my career till now.
agpur University. After my graduation I was given my first professional break as Marketing Manager from HMP Engineers Ltd. formerly Rallis India Ltd.
ACC Cement as Assistant Manager again a Tata Group of companies which added my experience in manpower management and working in an ISO company, handling audits was a very handy experience added to my career.
In the year 2002 just started a proprietary concern AA Vortex Technologies and during the same tenure i went to become co-founder of a Start up Company named RSR Software Services Pvt. Ltd. Worked there as a Director for revenue producing applications. Responsibilities included internal and external customer requirements assessment, application design, development, quality assurance, user support and product infrastructure needs and marketing for getting new clients for company.
In the year 2005 got my first oversees opportunity and started working for a US Based company MarketRaise Corp. Where I was given full charge of back end development. Working with a US Based company was a very important experience which was added to my career. It made my views grow in a global atmosphere.
MarketRaise India Pvt. Ltd & I was provided a MD post & since 2006 successfully working as director at MarketRaise India Pvt. Ltd. this gave me an experience building a Pvt. ltd company. From 2006 successfully working as director under MarketRaise India Pvt. Ltd. and offices in Nagpur and Indore.
Currently mentoring TrendiByte (IT Venture of RSR Ventures Pvt. Ltd.) and incubating start up on gamified eCommerce "KhelGuru"
Q15) What piece of advice would you give to college graduates who want to become entrepreneurs??
If you love challenges and have a vision to grow big then entrepreneurship is the right way to go. It gives you flexibility and at the same time the growth potential totally depends on you.
Follow Him & His Startups @:
StartoCure is the online entrepreneurial magazine platform, where team brings you Interview & Stories of Entrepreneurs, Inspirations, Influencers, Startups eco-system & Change-makers. StaroCure also committed to bringing resources, research reports, funding reports and analysis of the startups, as well as profiles of great businesses & entrepreneurs from all over the world.
Note: If you have a similar story to share with our audience and would like to be featured on our online magazine, then please click here & follow the steps , we will review your story and extend an invitation to feature if it is worth publishing.
StartoCure.com strives to share every positive information which would benefit our readers. However, one must do their own research & take own responsibilities before taking any actions. Read Our Full Disclaimer
You may also like: