Success Story Of Prince Narula: The King Of Reality Shows
Prince Narula has won three consecutive famous reality shows, is well known, he is also known as the king of reality shows. He is an actor who is loved by millions of fan. Prince achieved many achievements, He also acted in some TV serials. He is married to Bigg Boss 9 fam Yuvika Chaudhary. Today we will talk about his inspiring journey & achievements.
We hope this can inspire you to become a successful person too! It is worth listening to successful entrepreneur or to people who share their success stories? We can significantly learn many things from the experiences of them, by listening to their story.
Prince Narula Early Life
Prince Narula was born in Mohali city of Punjab, but he used to lives in Chandigarh city along with his family's, but currently living in Mumbai. Prince never speaks about his family as he prefers to keep his personal life private. He has been very close to his parents since childhood.
Prince has always been seeking guidance and opinion from them, so he is still in touch with his parents. Prince's brother Bobby Narula is older than him. Hence, he loves his family very much and is always with them.
Prince finished his early studies from Chandigarh Baptist School. He always wanted to be in front of the camera, and after completing his studies wished to become a Model.
As a contestant on a reality show
---
Prince Naurla, Second Runner-Up in Mr. Punjab Show
Prince Narula started his career in 2014, by participating in PTC Punjabi show Mr. Punjab where he finished as the second runner up.
Prince won MTV Roadies X2 Show
After PTC Punjabi show, he came to Mumbai. In 2015, Prince participated in the most famous and youth based reality show Roadies X2 to be aired on television's MTV channel in 2015. In this show, group of participants travel to different destinations & participate in various tasks that challenge their physical, social and mental strength. Prince has won the show & made Roadies X2 title for his name.
Prince won MTV Splitsvilla Season 8 Show
After won the title Roadies X2 title, Prince also participated in the eighth season of Spitsvilla, a dating reality show that airs on MTV India. In this show, Prince again won the show along with his partner "Anuki Tchokhonelidze" & made Spitsvilla 8 title for his name. And after winning this show, he was being called as King by the people.
Prince won the Bigg Boss 9 show
After winning both MTV youth show, Prince joined as a contestant on the 9th season of the most talked-about reality shows Bigg Boss, In this show, contestants called "housemates" live together in a specially constructed house that is isolated from the outside world. The show is aired on Colors Channel, And show is being hosted by very famous Bollywood actor Salman Khan. Prince also won this show & made the title for his name. With this, Prince became the first person to win three consecutive television shows, and thus Prince created a new history.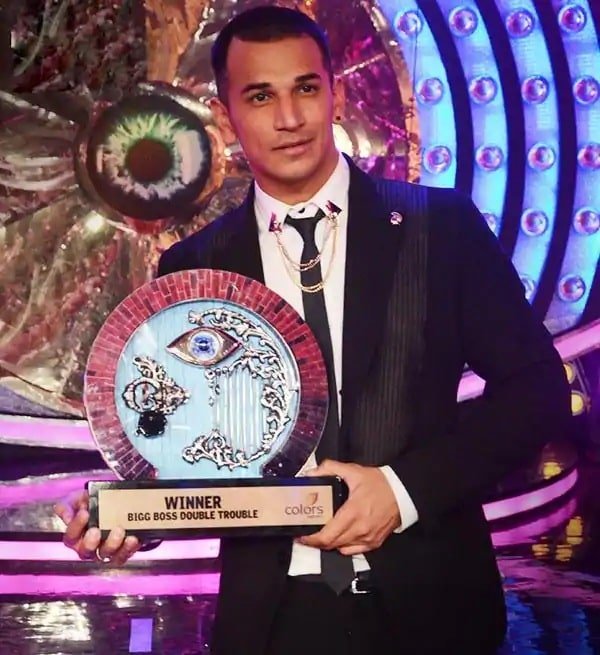 Prince Narula's Girlfriends/affairs and personal information
Prince has had relationships with several girls, stating that they were in a link in the past, which transformed him into a person. After this, when he was a participant in Splitsvilla, he met Anuki there. Then in 2015, Prince met Yuvika Chaudhary on the reality show Bigg Boss 9.
While together in this show, both of them started to like each other very much, even Prince had made his feelings for her. There was also another contestant in Bigg Boss 9, named Nora Fatehi. After Yuvika left Bigg Boss house, Prince and Nora started liking each other.
However, after winning the show and coming out, Prince extended his relationship with Yuvika. Since then, they were with each other. In October 2018, Prince and Yuvika have also been tied in the marriage bond, furthering their relationship.
Prince & Yuvika (#Privika)
The love story of Prince Narula and Yuvika Chaudhary is a modern-day fairy tale. Their much-talked about romance blossomed on the sets of Bigg Boss 9. But unlike most onscreen love stories that withered offstage, their bond only grew stronger and they recently tied the knot.
As an actor in a television show
Prince started his career as an actor on television after winning the reality show. In 2016, Prince appeared in the "&TV" show 'Badho Bahu' in the role of Lucky Singh, in which he played a considerable wrestler. Through this show, Prince gained good popularity by the audience & critics. Apart from this, he has been seen as a gang leader in MTV Roadies since 2016.
In the year 2018, Prince was seen as Aryan in another TV show 'Lal Ishq' alongside Yuvika Chaudhary. Shortly after that, he played the role of Shahnawaz in Prince Colors show 'Naagin 3'.
Apart from this, he has also been seen in some other television shows – as he appeared in Box Cricket League 2 in the year 2016 as a Chandigarh Cubs player. Prince also participated in Comedy Nights Bachao. Prince served as a host on the upcoming show 'Pyaar Tune Kya Kiya 9' on Jing TV. Then in 2017, he joined MTV Splitsvilla 10 as a guest.
Awards and achievements
Along with becoming the winner of the reality show, Prince has been awarded the 'Dadasaheb Phalke Excellence Award' in the category of the best couple with his wife Yuvika Chaudhary in the year 2018.
Some Interesting Information About Prince Narula
Prince is the first star to win three consecutive reality shows in the same calendar year, and due to this victory, Prince has been named as 'King of Reality Show' by his fans.
Prince has always wanted to be a part of the Bigg Boss Show, and he was very excited when he was approached for the show's 9th season.
After winning the title of Bigg Boss 9, Prince donated five lakhs to Salman Khan's Being Human Foundation out of the total amount won.
In 2017, Prince also joined hands with Yuvika Chaudhary to sing 'Hello Hello' and 'Zero Figure Tera'. In 2018, Prince's song 'Burnout' also came, which was also sung by Prince with Yuvika Chaudhary.
Prince considers Ranvijay Singh as his mentor and Akshay Kumar as his ideal.
Prince Narula appeared in Limelight after winning his first reality show MTV Roadies X2, and after that, he became a youth sensation.
Prince has made a new identity in such a short time, which is worthy of praise. He is an average person whose vision is to always move forward in life. (Biography of Prince Narula.
Prince Narula's Latest Video Song
In the month of July 2020, he resealed a beautiful Punjabi song (FALL), which is sung by him. Actress Jashn Agnihotri is featuring in this song along with him. Music of this song has given by G Skillz & lyrics by Navneet. Watch his latest beautiful video song:-
We hope we have provide much information about Prince Narula. Now we are signing out, Good Day!
StartoCure is the online entrepreneurial magazine platform, where team brings you Interview & Stories of Entrepreneurs, Inspirations, Influencers, Startups eco-system & Change-makers. StaroCure also committed to bringing resources, research reports, funding reports and analysis of the startups, as well as profiles of great businesses & entrepreneurs from all over the world.
Note: If you have a similar story to share with our audience and would like to be featured on our online magazine, then please click here & follow the steps , we will review your story and extend an invitation to feature if it is worth publishing.
You may also like: