Vijith Kumar Nandanam is a highly enthusiastic, result oriented & entrepreneurial mind-set person. He works in Routematic, Ex-Michelin, Business Strategist, and Sales Enthusiast & Consultative Selling Specialist. He is well versed with managing end-to-end bid cycle for mid-sized to large enterprise accounts. He has worked and led cross-functional teams in a multi-cultural environment. Today we got a chance to interview him, Let's know more about him.
It is worth listening to a successful Sales person or to people who share their success stories after Career Transition? We can significantly learn many things from the experiences of them, by listening to their story.
Excerpts from our exclusive interview with him:
Q1) Tell us a little bit about you and your journey, please;
Impossible itself says I'm Possible – A strong believer in this statement, I hail from the southern part of India (Kerala). An avid traveler & formula 1 freak who loves to go-kart occasionally – it keeps me stay focused & sharp!
I have over 9+ years of professional experience. I presently head Sales for West India for Routematic. My work-ex is spread across manufacturing, engineering, sales & performance management. It was after spending 5 years in a technical role (Electrical Engineer), I decided to move onto a dynamic lifestyle at work from a bird-caged one at a manufacturing plant.
Since the move, I have always loved the dynamism at work with challenging stuffs coming along. Converting challenges to opportunities at work has always motivated to deliver more!
Q2) How did the idea for your transition come about?
I recollect my college interview where I was asked 5 years from now, where do you see and what do you want to become? I replied I would love to be a techno-commercial person. The moment I joined as an Engineering Trainee, this plan was within and spent 5 years understanding the process behind manufacturing the product (tires) & then moved into sales to understand its behavior. Knowing the product manufacturing and process orientation being within me for long, the decision to move to sales happened with 3-4 rounds of internal interviews and then on, never looked back
Q3) What was your key driving force to transform to a Sales Person?
"Never-Give-Up" & "resilience" are what I always carried along since school days. From a very poor high school % (11th standard) to move onto the top 1% (12th standard) to fail in a couple of interviews to landing onto a core engineering job
To make it to the best purpose, I knew sales-person is the apt role to work on and so moved with a bold decision risking completely without any prior sales experience or MBA
Q4) How did you manage the career transition?
With every pain comes gain – I trusted that with more pain comes better and bigger gain in long term.
Treating pains with priority is what I did. A dreaded region to handle right after moving to sales, 180-200 days without much traction in volumes, I was going crazy in terms of the switch made. Yet, I had to go through this as it was a decision I took and so stood by it. Splitting problems into smaller fragments and working on each helped me close my 1st sale of 8-10 tires back then in 2016. Once the strategy was in place, I utilized it to my advantage and worked my way up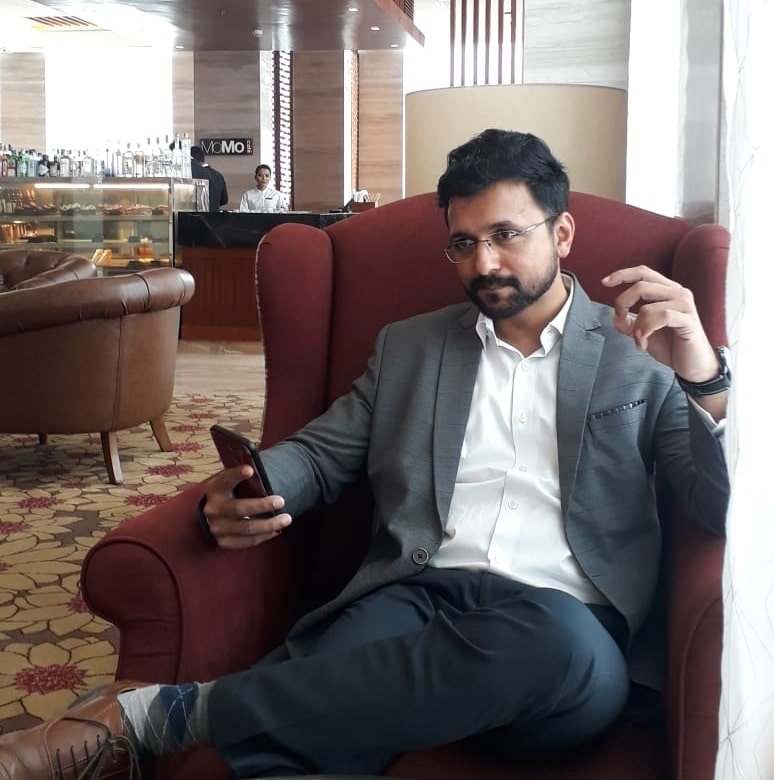 Q5) What thoughts should people keep while transitioning career?
First – stay prepared for whatever comes (including unknown factors)
Second – Never regret the decision
Lastly – own the decision and live it up to the fullest
Its like a wound if you feel it tough – give it the time to heal and work upon while constantly evaluating yourself in the career trajectory
Q6) When can one assess and move for a different career path?
Well, it solely depends on where one wants to land 2-3 years from where one stands today. Ideally, calculated risks should be taken with age, responsibilities, and future planning in terms of work and life.
While I took the decision to move right from joining the firm post college, it was at 26 years of age, I took the move.
If you know where and what puts you in the right mindset with exceptional interest to work for that particular role you choose, you would be your only judge.
Q7) How did you succeed through the move?
In terms of success, I learned from failures. I realized to sell a product, you should become the customer first and then think from that perspective. This is very common, but I learned in tons out of this. This thought process helped me work along with customers as one among them that slowly over time, my customers started to see me as one among their peers, and eventually, conversing became easier and so did selling!
Q8) Which tactics have been most successful?
I was always good at explaining and putting things in the way in which customer loved to see even while at my engineering job (wherein production was my customer)
This helped me big time after moving to sales. I always hang onto this especially in negotiation meetings with clients, after moving to corporate sales since 2019
Being an active listener has helped a lot in terms of sales closures in both channel and corporate sales roles especially after the transition – it gives better detail onto what needs to be discussed about USPs of the product/service
Q9) What risks you had to face and still do- how did you overcome?
An empty pipeline & a zero prospect list
Either of these are a massive risk for a sales person and I did face it while I was assigned a dreaded territory
GTM strategy & market visits(if you're into domestic territory bound sales) to have an understanding of both competitor behavior & product/service perception made sure I had a check on happenings within my territory and I changed the GTM approach accordingly to focus more on consumer needs rather than product offering alone
Q10) How did your typical day at work change after transitioning career paths?
An agile learner any day, my Work-hours increased massively
Clocking extra hours helps you learn in and outside work
Most sales roles I worked, involved traveling too, which eventually increased my work hours a day as well – working on the go was the new normal to me henceforth
Yet, I loved and still love the work hours clocked every day aimed at solving problems more!
Q11) What was your greatest fear after the move and how did you overcome/manage?
Fear of crashing out to nothing and remaining left out (even jobless at one point in initial sales days) as I had no prior sales experience nor theoretical knowledge via MBA/Business courses
Resilience and aggressive positive persuasion towards clients (many a time) helped a lot. The most important being able to rise up after failing miserably at a particular dealer/customer/client account. The learnings I gained was always worked upon to make sure mistakes aren't repeated. This made sure my trajectory was intact towards my goal – of selling the product/service!
Q12) What piece of advice would you give to college graduates/professionals who want to transition his/her career?
Choose what you want – do not follow others blindly first
Evaluate yourself now and after your choice – how, what & where would you be in 3-5 years – would it keep you passionate enough?
Lastly, be responsible and accountable for your actions & decisions – never ever give up and look back after you move on!
With these in line, the move for your career will impact you positively big time!
Follow Him @
Follow LinkedIn Lounge @
StartoCure is the online entrepreneurial magazine platform, where the team brings you Interview & Stories of Entrepreneurs, Inspirations, Influencers, Startups eco-system & Change-makers. StaroCure also committed to bringing resources, research reports, funding reports, and analysis of the startups, as well as profiles of great businesses & entrepreneurs from all over the world.
Note: If you have a similar story to share with our audience and would like to be featured on our online magazine, then please click here & follow the steps, we will review your story and extend an invitation to feature if it is worth publishing.
You may also like: