Additya Kashyap and his brother (Vineet Kashyap) are the co-founders of two startups, Yudley & Dubswork. Yudley is a mobile app-based global community, and network of musicians and music lovers. It allows musicians to showcase their music and the music lovers can sing or perform on this music to create & share studio-quality videos called "Yudleys".
And DubsWork is a language-agnostic solution that is going to change the movie-watching experience for cine-goers and home subscribers. "cinedubs" is a radical new movie watching experience enabling users to enjoy movies in their own language at nearby theaters or anywhere they wish, irrespective of the language the movie is showing in. They believe "We fill the seats and kill the subtitles". Today we got a chance to interview Additya Kashyap, let's know more about him & his startups.
We hope this can inspire you to become a successful person too! It is worth listening to a successful entrepreneur or to people who share their success stories. We can significantly learn many things from the experiences of them, by listening to their story.
Excerpts from our exclusive interview with him:
Q1) Tell us a little bit about your start-up and your journey, please;
Starting out as a trainee in 1995, I grew in ranks managing operations of Fortune 100 clients for companies like Cambata Aviation, Daksh eServices, Epicentre Technologies, Genpact, AEGIS, and recently as CEO of Majorel India. I have also led global operations for healthcare, banking, and finance and had a venture that provided Revenue Cycle Management (RCM) services to healthcare practitioners and imaging Centres in New Jersey, USA. Have mentored and created specialists in Healthcare, Banking & Finance, Telecom, Solar, and Information Technology. My specialization encompasses Six Sigma, COPC, Business Development, Performance Management, Client Relations, Project Delivery, Profit & Loss, Gross & Net Margin Improvement (EBIT).
Q2) How did the idea for your business/startup come about?
Yudley:- Today we don't have any platform dedicated to budding artists and musicians through which these artists can share their creations to the world and generate revenue for themselves. Through Yudley, we are addressing this need and ensuring that new talent is recognized on a global platform and artists are paid as per their popularity.
Cinedubs:- Every year approximately 4000 movies are produced globally in over 90 languages, however, in a theatre it's shown in only one language at a time. cinedubs allows cine-goers to watch movies at a nearby theatre in their preferred language irrespective of the language the movie is showing in. Above all cinedubs enables families and friends who prefer different languages to sit together and watch movies in their desired language through a smartphone. cinedubs increases the reach of a movie; breaking the language barrier and allowing each movie language to have a pan world reach.
Q3) How do you market your business, and which tactics have been most successful?
Yudley:- The alpha version is out and is being used by family and friends. We plan to promote this through word of mouth and on digital platforms.
Cinedubs:- We are waiting for the theatres to open and we plan to do 100 movie screenings in 25 cities across India. The same strategy will be mirrored in every new country that we enter.
Q4) Did pandemic (COVID 19) affect your business? if yes how?
Cinedubs launch has been delayed due to the current pandemic. Due to the lockdown, all movie releases have been postponed. We are waiting for things to get back to normal. Till then, we are focusing on Yudley.
Q5) Have you considered any alliance/partnership/funding?
We are getting offers for investment in cinedubs and we are evaluating the proposals. We are also in discussion with multiplexes for strategic alliances as they understand that cinedubs can really help them grow their revenues.
Q6) What is your greatest fear, and how do you manage fear?
My belief is FEAR means False Evidence Appearing Real. I am a self-motivated individual and constantly like being on the move to add as much as possible, to evolve and challenge my comfort zone. This makes me always open to learning which triggers a positive mindset approach.
Q7) Tell us about your early life & How has being an entrepreneur affected your life?
I had a very humble beginning in 1995 as a Trainee with a monthly salary of Rs.2000. Straight out of college, I picked up my very first job through a newspaper advertisement; those days we didn't have naukri.com or placement consultants. I had only one belief – Whatever I do, I will be the best in it, and you can only be the best by putting in your best efforts and do your work with passion and grit.
This commitment in every role that was given to me, made me what I am today. I kept learning new technologies and systems and ensured everyone around me knows it as well. All the teams that I have lead, have been the best in knowledge and performance. Now, I have more than 25 years of experience in Aviation, Banking & Financial Services, Healthcare & Insurance, and Information Technology. I have grown in ranks, managing operations of Fortune 100 companies for organizations like Daksh, Epicentre Technologies, Genpact, Aegis, and recently Majorel India.
I always wanted to be a leader and I understood very early in my career that to become a leader, you need your team to work with you, not for you. I have been certified and specialized in Six Sigma, COPC, Business Development, Performance Management, Client Relations, and Project Delivery. This has allowed me to train many team members to become experts in Information Technology, Healthcare, Banking & Finance, and Customer Experience as I strongly believe in sharing my knowledge base and experiences for their individual growth and success.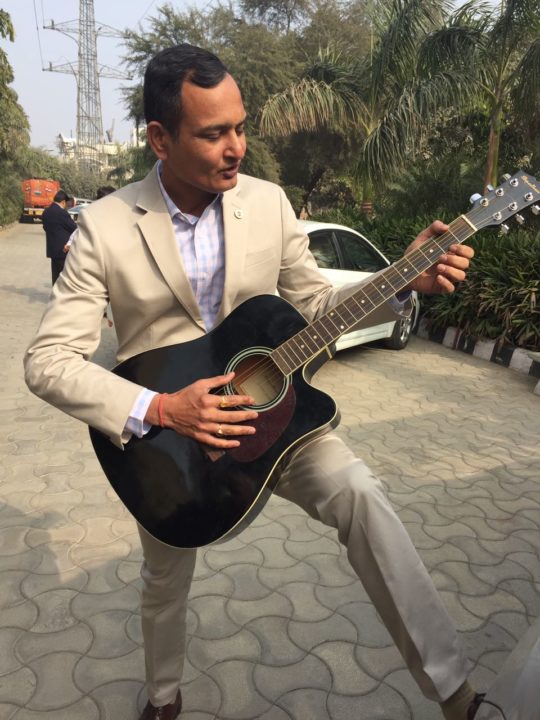 Personally, I continue to involve myself in upskilling young leaders through leadership development pieces of training along with life coaching sessions.
Q8) What piece of advice would you give to college graduates who want to become entrepreneurs?
Looking at the current scenario where-in there were 6 unicorns announced within a week's time, I know a lot of people would want to jump into entrepreneurship. The information that we don't receive, is that how many companies had to shut shop or were dissolved. Before getting into a business one must have enough experience, rather I would say one must have failed a few times. Also, your business must address a need of society.
Follow Him @
StartoCure is the online entrepreneurial magazine platform, where the team brings you Interview & Stories of Entrepreneurs, Inspirations, Influencers, Startups eco-system & Change-makers. StaroCure also committed to bringing resources, research reports, funding reports, and analysis of the startups, as well as profiles of great businesses & entrepreneurs from all over the world.
Note: If you have a similar story to share with our audience and would like to be featured in our online magazine, then please write to us at hello@www.startocure.com, we will review your story and extend an invitation to feature if it is worth publishing.
You may also like: