Bhavna Dalal is the Founder & CEO Of Talent Power Partners, a leadership development firm. Bhavna is a Master Certified Coach and Specialist in helping Mid-Level and Senior Level Executives develop their Leadership Skills to the Next Level and lead successfully with clarity, conviction, and connection. She has worked with 1000's of New and Experienced Leaders from around the world to help them grow aligned to their vision and strengths.
She also serves on the board of directors of Bodhi Education Society as Vice President and She is the author of several articles in publications such as Forbes and Fortune and two books. Today we got a chance to interview her, lets know more about her.
We hope this can inspire you to become a successful person too! It is worth listening to a successful entrepreneur or to people who share their success stories? We can significantly learn many things from the experiences of them, by listening to their story.
Excerpts from our exclusive interview with her:
Q1) Tell us a little bit about your startup and your journey, please;
As a Leadership development consulting firm Talent Power Partners, we develop leadership skills in individuals from the manager level up to the executive and board members to become better leaders and excel in their roles. We work with leaders on attributes like building executive presence, leading through influence, women leadership, networking skills, strategic thinking, collaboration skills, and many more.
My entrepreneurial journey as an author, speaker, and coach is my Career 2.0. After my engineering degree in Electronics from Bombay University, I worked in South Africa and then in the US for many years in software development before embarking on this mission.
The startup journey has had its ups and downs. Starting from scratch in the beginning, and staying persistent through the failures can be challenging. What helped is having clarity of vision but being open to how the path shaped itself through experiences and opportunities. It is about how you view obstacles and then use them for your growth and benefit. I talk about the same concept in my new book, Checkmate Office Politics, where you can use negative, unpleasant situations to learn more about yourself and move towards your personal vision of success.
Q2) How did the idea for your business/startup come about?
Moving back to India more than a decade ago brought me a different perspective, and I started to ask myself fundamental questions such as, What brings me joy? What are my strengths? How can I serve others better? One thing led to the other, and I discovered the field of Coaching. Executive Coaching has indeed been a calling for me.
Q3) What was your key driving force to become an entrepreneur?
I started my entrepreneurial journey after the age of forty. While several issues arise due to the late start, there are certain advantages as well. Since it is part two of my career, whatever I do now is to prove to myself and not to anyone else. Due to this, I am more open to taking risks and can choose my pace and quality of work.
As per the theory of Cause and Effect, one can choose to be the cause or be affected by events or circumstances in life. Entrepreneurs lean significantly being causers rather than just being affected. My desire to make a difference in the world shaped by my experiences made entrepreneurship the only option for me. As I work with corporate leaders across industries, levels, and regions to help them achieve their goals and work through their leadership challenges, I can create more such as my book, articles, courses, and talks.
Q4) How did you come up with the name for your business/startup?
The company is called Talent Power Partners. Since we are a leadership development company for people – talent as it is called in the corporate world, we empower people to become better leaders. It is a partnership where we work with companies and individuals, hence the name.
Q5) What service(s) or product(s) do you offer/manufacture?
We offer one-on-one, group and team Coaching, online courses, and conduct leadership development workshops and talks to corporates- companies and individuals.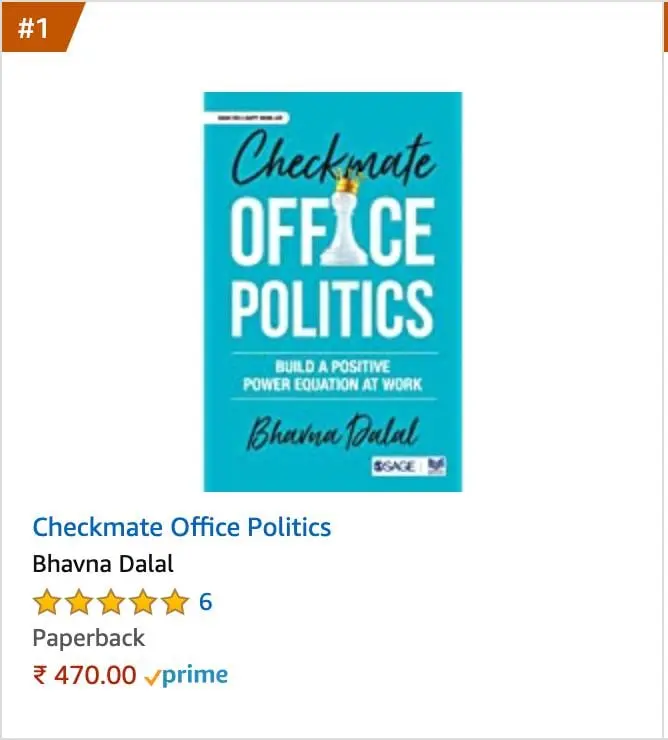 Q6) Why should people choose your product/services?
The primary motivator for anyone to choose a service or product is to increase pleasure or decrease pain. We understand the issues leaders face in innovating, leading, inspiring, or maximizing their potential in the current rapidly changing environment. We are entirely in service to our clients and excel at assisting them in their journey due to our in-depth experience.
Q7) How do you market your business, and which tactics have been most successful?
Our marketing is primarily through word of mouth and social media. Thought leadership is something that has worked exceptionally well for us.
Q8) What risks are you facing?
The risk that any business faces – which is not constantly innovating, listening to our clients' needs, and not evolving and adapting to the times. Keeping one eye on all of the above continuously helps mitigate the risks.
Q9) Did pandemic (COVID 19) affect your business? If yes, how?
Interestingly, the COVID situation has exposed the need for coaching and leadership development tremendously. This has actually been good for our business. For a few years, most of our work was steering online anyway since our clients exist across continents. The nature of issues the clients face has changed to some extent, but as a Master Coach, I am well equipped to handle those. Our responsibility now becomes to enhance our reach further so that people I can help find me easily.
Q10) Have you considered any alliance/partnership/funding?
We are a very gig-based model, and we are always forming alliances and forming partnerships based on the projects at hand.
Q11) What is your greatest fear, and how do you manage fear?
Fear is not real, but it feels very real when you experience it. One of my responsibilities as a Coach is to get people to recognize the fear holding them back (conscious or subconscious) from taking the necessary actions they need to take. I do this exercise on myself often to check if there is any fear and, if so, what it might be in any situation. The fear of stagnation is the biggest fear I have.
That the clients are happy and satisfied with our work, they must move forward in their journey of becoming a leader. We must constantly be evolving to meet the needs of the clients in different ways.
Q12) What comes first for you money or emotions?
What comes first is what makes sense and meaning in a specific situation. Emotions are extremely powerful and potent to use as your guidance system. Positive emotions are always showing you the path to follow. Listen to the direction they are pointing you in.
Q13) What piece of advice would you give to college graduates who want to become entrepreneurs?
In my book Checkmate Office Politics, there is a quote, "Fear kills more dreams than failure ever will." Apprehensions of the past or opinions of what others around you think are things that usually stop people. It is vital to remember that your dreams are unique to you, and others may not understand them. Stay loyal to those dreams, and don't give up on them. There is always a way, no matter what you want to achieve.
Some tips to keep in mind:
Listen, learn, observe, understand but finally do what works best for you.
It takes courage to say no to things that are not serving you; build that courage.
Define your own meaning of success and follow that.
Always look for win-win alternatives to any problem.
Follow Her@
StartoCure is the online entrepreneurial magazine platform, where the team brings you Interview & Stories of Entrepreneurs, Inspirations, Influencers, Startups eco-system & Change-makers. StaroCure also committed to bringing resources, research reports, funding reports, and analysis of the startups, as well as profiles of great businesses & entrepreneurs from all over the world.
Note: If you have a similar story to share with our audience and would like to be featured on our online magazine, then please click here & follow the steps, we will review your story and extend an invitation to feature if it is worth publishing.
You may also like: