Durdana Simran is the founder of The White Letter, a creative agency. She is a journalist, with a master's in mass communication, a video host & anchor who has worked with various brands, interviewed celebrities, and moderated panel discussions.
Durdana Simran is an experienced writer with a demonstrated history of working in the writing and media industry. Today we got a chance to interview her, let's know more about her & learn from her experiences.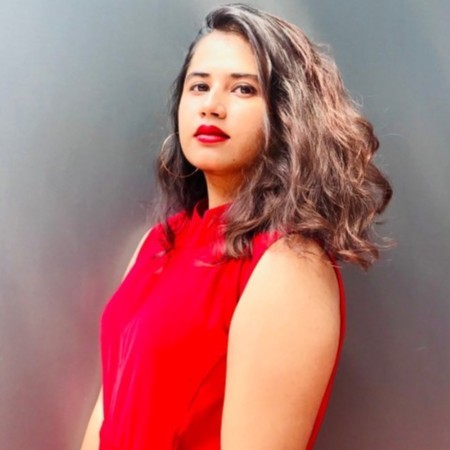 We hope this can inspire you to become a successful person too! It is worth listening to a successful entrepreneur or to people who share their success stories. We can significantly learn many things from the experiences of them, by listening to their story.
Excerpts from our exclusive interview with her:
Q1) Tell us a little bit about yourself and your start-up journey, please;
I'm a Multimedia Journalist, Video Host, and Founder of The White Letter. My love for storytelling and creating content, brought me into the field of media. On one side, I write/speak about topics the world needs to hear about and the other has become my creative outlet. Even after being in the industry for about 5 years, every day I tell myself that the journey has just begun and that sky is the limit.
Q2) How did the idea for your business/startup come about?
It wasn't just an overnight decision. If you told the 17-year-old me, that The White Letter could be set up as a business model, I wouldn't like the idea of it. Because there's always been a personal touch to it. It started off as a labor of love to support creative arts and put up my personal projects. But as we kept growing, there were projects that came our way which needed the support of a team, that's how the shift from being a group of like-minded individuals to a creative agency happened.
Q3) What was your key driving force to become an entrepreneur?
My father, Khalid Anjum has been my inspiration and favorite cheerleader. He instilled the confidence and dedication that I have towards my work now. Growing up, I always felt like doing more and not living a stagnant life. That's when he encouraged me to start something of my own. So it wasn't a decision that happened voluntarily, it was more of an experiment. Starting off at a young age gave me the chance to make mistakes, learn from them and grow in a practical way. Even now, when something goes wrong, the practice has helped me pick myself up and keep going.
Q4) How did you come up with the name for your business/startup?
Every evening my father and I had this ritual of spending time together and talking about everything under the sun. From how we spent our day, Rumi and our favorite song. When the idea of starting a personal website had come up, I had chalked out a few names. That's when we liked The White Letter a lot because everything begins with a blank canvas. Every artist, whether you're a writer, musician, or painter, chooses a plain white canvas to express themselves. And, that's what we wanted it to be. A canvas for brands and individuals to color it with their thoughts.
Q5) What service(s) do you offer?
As a creative arts agency, we create, curate, and conceptualize. From content strategy, social media grid curation, graphic designing to virtual and on-ground events. There are two wings of TWL. One that works to create content for brands, and the other where we support artists by showcasing their work. We customize services based on the clients or projects that come our way. So we don't restrict ourselves to just doing one kind of work, that's the whole point of the agency. It's to break the barriers in the arts field and mostly, enjoy what we do.
Q6) What risks are you facing?
Everything you do in life is a risk, it exists at every stage. So taking one doesn't scare me. I'm an optimist, so I don't like overthinking about what could go wrong. I cross the bridge when I come to it, until then it's about enjoying the process and making the most of it.
Q7) Did the Pandemic (COVID 19) affected your business? If yes how?
2020 was a difficult year for everyone. But it also taught us how to be resilient and never give up. As a team, the pandemic made us regroup and pick up projects that we had shelved for a long time. When I take a look at the amount of work we managed to do in that time, I still can't believe we pulled it off. We even celebrated our 5th year during this time, which served as a beacon of hope. Also, since it's still a small-scale business we had it easier.
Q8) What are your responsibilities as the business owner?
As a business owner you represent the brand, everything you do or believe in has a huge impact on your way of work. But like they say, with success comes a lot of responsibilities. From making sure the clients are content with our work, meeting the legal team, getting accounts sorted, and keeping in touch with the team members; sometimes in different time zones, there's a lot of work that happens simultaneously.
Q9) How many hours a day do you work on average & can you describe/outline your typical day?
My routine changes according to the city I'm working in. Currently, I shuffle between Mumbai and Bangalore and the speed is very different at both places. But on most days, my first half of the day goes into meetings, coffee runs, and the rest half into shooting and attending events. If I'm lucky enough, I catch a good sunset at the beach before I head home to watch some Turkish drama or go on a late-night drive. I keep my weekends to unwind with friends and family. A good sundowner or brunch keeps me going for the rest of the week to manage the hectic schedule.
Q10) What is your greatest fear, and how do you manage fear?
I think everyone has their own set of insecurities and demons they're fighting. I used to be extremely scared of loss, thinking I'd never be able to get over it. But life has its own way of teaching you things. With fear, I've learned that the idea of it is way scarier than you actually facing it.
Q11) Tell us about your early life & How has being an entrepreneur affected your family life?
I grew up in a family, where I've seen all the women take charge. Being independent at whatever I do comes from what I've picked up from them. For every individual, your early life plays a huge role in the way you look at life. I'm grateful for the kind of exposure I got through my education and the environment I grew up in, it taught me to have an opinion and stand for what I believe in. This way I knew how to prioritize work and personal life depending on the need of the hour. There have been days I've worked through some of my lowest moods, without letting work suffer. But it's important to pause, reflect and then continue.
Q12) What piece of advice would you give to college graduates who want to become entrepreneurs?
Trust your gut, do what makes you happy. Entrepreneurship is a skill, make sure you learn every day. Take some risks and remember no idea is crazy. You'll only know how it shapes up if you give it a shot. Make sure you choose something you want to wake up and work hard for every day.
Follow Durdana Simran @
Follow The White Letter @
StartoCure is the online entrepreneurial magazine platform, where the team brings you Interview & Stories of Entrepreneurs, Inspirations, Influencers, Startups eco-system & Change-makers. StaroCure also committed to bringing resources, research reports, funding reports, and analysis of the startups, as well as profiles of great businesses & entrepreneurs from all over the world.
Note: If you have a similar story to share with our audience and would like to be featured in our online magazine, then please write to us at hello@www.startocure.com, we will review your story and extend an invitation to feature if it is worth publishing.
You may also like: