Interview With Pooja Arora: A Bridal Expert | Founder & Owner Of Pooja Arora Artistry
Pooja Arora the founder & owner of POOJA ARORA ARTISTRY is a BRIDAL EXPERT. She is specialized in MAKEUP & HAIRSTYLING. POOJA is one of the top rated MAKEUP ARTIST & HAIRSTYLIST in JHARKHAND. She has been awarded by one of the renouned makeup artist AMRIT KAUR in 2018 in Pune. After learning & working with experts she started up her own Artistry. She is basically from Jamshedpur, Jharkhand but she works globally. Today we got chance to Interview with her, lets know more about her & her Artistry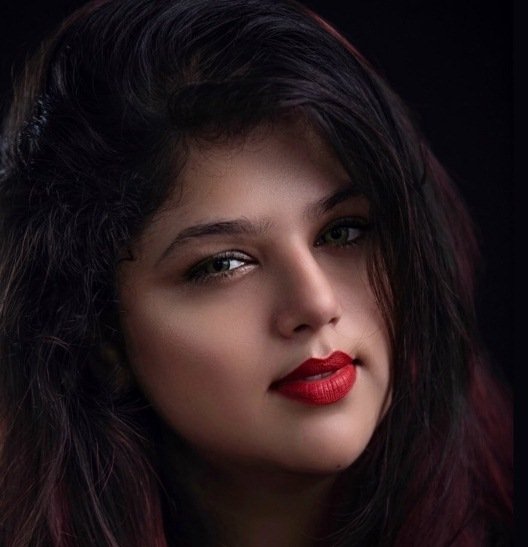 We hope this can inspire you to become a successful person too! It is worth listening to successful entrepreneur or to people who share their success stories? We can significantly learn many things from the experiences of them, by listening to their story.
Excerpts from our exclusive interview with her:
Q1) Tell us a little bit about your your journey & How you find your inner talent, please;
I was a makeup lover since childhood, always loved decking up. So passionate! . But i never realized this during my academic phase. I completed my masters & PGDM but when it was my turn to get myself a job i couldn't make up my mind, everything was turning out to be so tough. I finally realized am not a 9 to 5 person. A war was always on in my head. Meanwhile I flew to Pune for my cousin's engagement .She was decked up beautifully and i couldn't resist myself asking. She told me she got her makeup done from a Makeup Artist. Her words hit me hard. As i saw things that was close to my heart. I realized I SHOULD BRING MY PASSION AND CAREER TOGETHER.
I started up with my research. Checking out different makeup artists across India ,finding the best one to learn from. but I was still stuck with AMRIT KAUR ,the makeup artist who decked up my cousin , no doubt she is one of the best in India . And the most interesting part was when iI enquired about her classes, I got to know it was after 7 days!!! I decided ' THIS IS IT " …
I Learned makeup from her and got awarded………
I came back.. I was so confident with my makeup skills but somewhere this confidence was lacking with hairstyling.
Again i flew to Delhi to learn from one of the finest hairstylist AMIT KUMAR..
And finally everything was at place .. i started up with POOJA ARORA ARTISTRY ..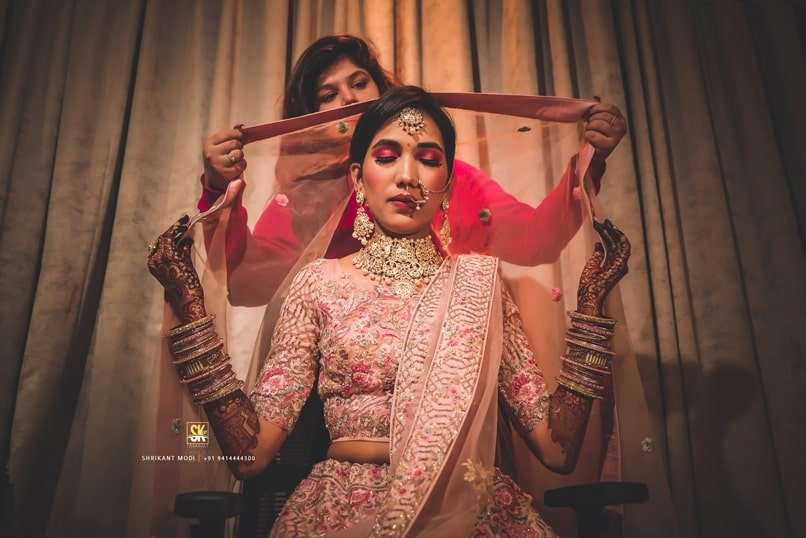 Q2) What was your key driving force to become an entrepreneur?
My passion for makeup and love for traveling and exploring kept hitting my mind .Moreover I am not a person who can sit and work 9 to 5 in an office. So I found nothing better than mixing my passion and career together
Q3) How did you come with name of your business?
I Believe in BRANDS. And i dream to change my name into a brand. I dream my work to be known by my name.
Q4) What services or products do you offer?
Being a bridal stylist, I style my brides head to toe personally. As I am more into weddings, I & my team take up the entire wedding makeup deals. Moreover we provide basic to advance makeup & hair styling services for females & males. Shoots, prewedding , anything that requires makeup we are glad to serve at the best . And about the products i would like to share i have a kit of all the high end products , not a particular brand but of course assembled – hand-picked and selected after studying each .
And about the products I would like to share I have a kit of all the high end products, not a particular brand but of course assembled – hand-picked & selected after studying each .
Q5) Why should people choose your services & products?
I believe in quality, and i serve at my best. I Love decking up my clients , making her comfortable, building a friendly bond I put my 100% to give her the confidence that after wearing my makeup she is looking utmost beautiful .. And of course products are really important, I never compromise with them , not only products i personally keep eye on everything – from hygiene to reaching my destination on time i personally manage everything.
Q6) How do you market your business? & which tactics have been most successful?
SOCIAL MEDIA .. Social media is an amazing platform to market and promote any business now a days. But few things are constant – oral publicity i.e mouth to mouth publicity still works great, specially when you are from a gr8owing city like Jamshedpur.
Q7) What are the risk you facing?
I believe in challenge's not risks , and i know to deal them.
Q8) What are your responsibilities as the business owner?
Greatest responsibility and my top most priority is -" MY CLIENT'S HAPPY FACE" . from day 1 when I tie-up with a client I take care of each and everything- her outfits, jewelries, skin, hair, photographer etc. till her/his need of a MUA is over . Along with clients i take the entire responsibility of my team, my stuffs my hygiene, my process. In short A TO Z.
Q9) Have you considered any alliance/partnership/funding?
NO
Q10) How many hours a day do you work on average?
It totally depends on the deal, I cannot state exactly in numbers. I mean for an example if you hired me for a shoot starting at 4:00 am ending 10; 00 pm I'll be there in the shoot till it's over. And suppose am in a 3 days wedding gig , am ready to serve at any point of time. it's like 365 days 24*7
Q11) What is your greatest fear? How do you manage your fear?
Disappointment – yes all that I fear is my client getting disappointed. Client's satisfaction and happiness is what i seek for. So to manage my fear I hardly leave a point where I can disappoint my client. The day I Tie up with client I take the entire responsibility of styling her and it ends when i get a token of appreciation.
Q12) What comes first for you money or emotions?
MMMM.. Honestly money matters but of course Emotions hold a higher place.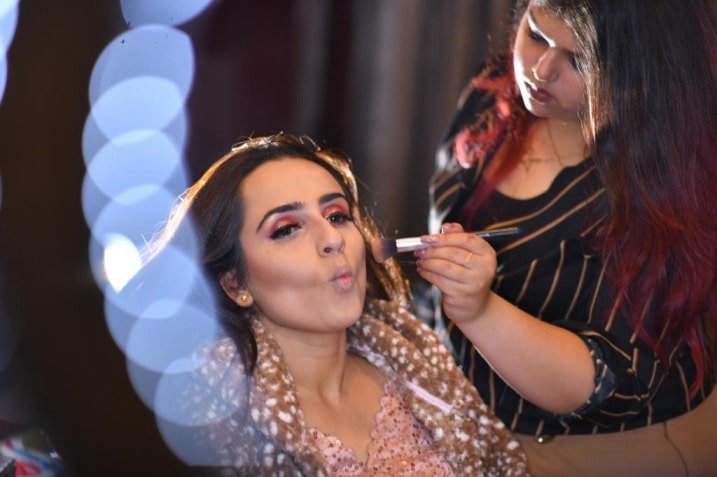 Q13) Tell us about your early life & How has being an entrepreneur affected your family life?
Well I have world's best parents – way too loving and supportive, and a younger sister who is super studious. A sweet family of four. living in my comfort zone getting pampered and love for so many years , when it was my turn to stand on my own feet , grow, make a career , face the challenges of the 21st century my family stood beside me . They kept loving what i did , they had faith that I'll make it happen a day ! And seeing me growing this way they are super happy and proud.
Q14) What piece of advice would you give to college graduates who want to become entrepreneurs??
Well am not that big to advice someone..But would like to share few things ..
Follow your Passion.. Make it your career .. You'll literally fall in love with your work. Of course hard work & dedication is must..!

Pooja Arora
Review for her work: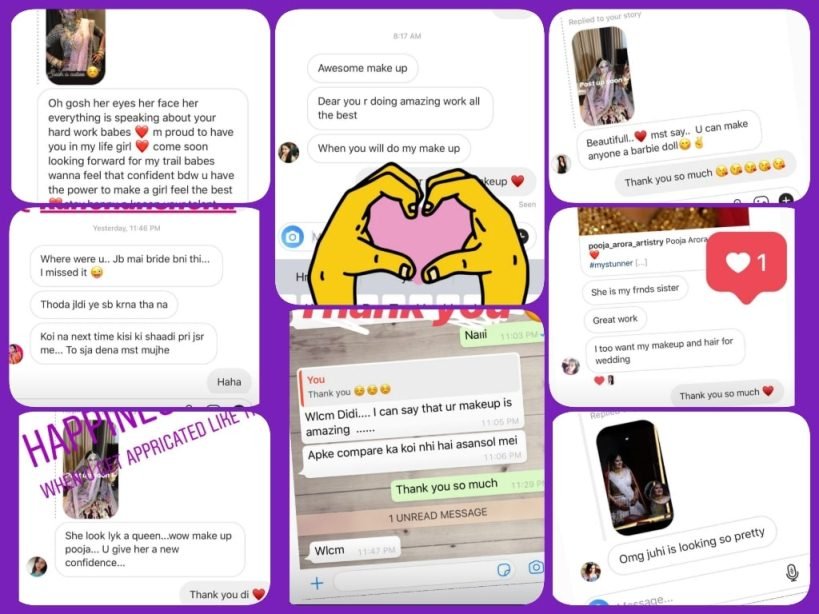 Follow Her:
StartoCure is the online entrepreneurial magazine platform, where team brings you Interview & Stories of Entrepreneurs, Inspirations, Influencers, Startups eco-system & Change-makers. StaroCure also committed to bringing resources, research reports, funding reports and analysis of the startups, as well as profiles of great businesses & entrepreneurs from all over the world.
Note: If you have a similar story to share with our audience and would like to be featured on our online magazine, then please click here & follow the steps , we will review your story and extend an invitation to feature if it is worth publishing.
You may also like: