Parag Porwal is the CEO & Founder Of Parag Porwal Software Lab. He is a Btech (CSE), Graduate, & helps business by providing full-fledged services, from business registration to website development. He provides software solutions with the latest technology developments to bring your business the software it needs to succeed. Today we got a chance to interview him, lets know more about him.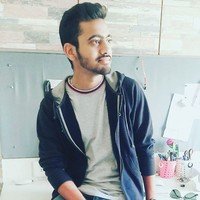 We hope this can inspire you to become a successful person too! It is worth listening to a successful entrepreneur or to people who share their success stories? We can significantly learn many things from the experiences of them, by listening to their story.
Excerpts from our exclusive interview with him:
Q1) Tell us a little bit about your start-up and your journey ?
Hello, I am "Parag Porwal", I am basically from Bhilwara, Rajasthan. I have completed my graduation (B.tech) in Computer Science Engineering and completed in the year 2017. As a vision towards my startup, from starting I was very clear to start my own business in field of IT, but due to lack of experience I was not able to start as soon. While studying that time I focused on the major things which I lack off And then I started to work for different industries and companies with study, to understand the flow and limitations of companies. After struggle when my graduation completed, a point comes after some months when I quit my job and all other work and finally started my startup.
Initially I started with few services and learning many other to emerge fully in the IT domain. I started with 2 developers initially and started work in low budgets. Then our work was liked by our client's and they referred us many other people which gave us hike.
Q2) How did you come up with the name for your business/startup ?
A business name is the most important thing for a business to grow up. After 2months before starting my startup I come up with the suffix of the company name as "Software Lab" Which gives a user a perfect idea what the company does, as it has "Lab" keyword with prefix of "Software". I researched for many different names and check out many tech company's names, try to find out how they put up the name and what the meaning for that is.
Finally, A thing strikes my mind that why should I create a brand with a different name when I can connect people directly to me and make them feel like they are working in a familiar manner. So I put my name only to my IT company startup "Parag Porwal Software Lab". Now people easily connect with me and I am branding my own name to make my business rememberable. A simple google search can provide all information related to me and the company with a perfect authenticity.
Q3) How did the idea for your business/start-up come about?
It's not about the idea, it's about passion. From initial I was curious for computer related things and try to find logic beyond things. So why not an IT company where a program/logics and do the things or manipulate things as user wants. I properly believe in the custom development, business should always have what they need not what market needs. So I am working for business or start-ups which can afford high prices or take high risk for online business. I help them to cut down online cost with minimal requirement at earliest stage of starting a business.
Q4) What was your key driving force to become an entrepreneur?
I believe entrepreneur is just not a keyword or designation, it's a responsibility with several keys :
Decision Making
Self Motivation
Facing Challenges
Flexibility
Achieve what actually an entrepreneur want
An entrepreneur can be an employee or a founder if they have targets or if they can achieve whatever their goals are.
Q5) What service(s) or product(s) do you offer?
Parag Porwal Software Lab is a complete solution for what a business need. From having a business idea in your mind to make it a proper functional business we help you to grow.
We are providing solutions to every possible question an entrepreneur or business can have. We provide software solutions with latest technology developments to bring your business the software it needs to succeed. Business solutions we deliver are creating your business entity, Website Development, Mobile App Development, Custom Web Application Development, Training Solutions, Digital Marketing, Search Engine Optimization and many more.
Our Services:
To make your business a legal entity we can help you get that with following services:
All Type Company Registration
All Type Business Registration & License
All GST Solution
All Compliance Solution
After having an entity we can work to brand your entity with following IT services:
Business Listing
Website Development
Web Application
Mobile Application ( Android / IOS)
Digital Marketing
Search Engine Optimization ( SEO )
WordPress Development
Custom E commerce Development
We have launched two cloud/web based products also, one is in beta version
School Management Software and ERP Solution
Point of Sale software with stock, inventory management system
Q6) How do you market your business, and which tactics have been most successful?
Marketing is not solution to grow business, it's just help customer to find and compare between several and pick one which suits them best.
We cover each and every aspect of marketing to help customer find us.
Instagram
Facebook
Google
SEO
Branding
At last but not the least "MOUTH PUBLICITY" which helps every business to grow.
Q7) Have you considered any alliance/partnership/funding?
No, till now we didn't have any funding as we do not require that with finger cross. But yes of course we regularly take advise our CA, Financial advisors, and legal which having own expertise and network to do so, if required.
Q8) How many hours a day do you work on average & can you describe/outline your typical day?
It's very difficult to tell when how much hours an entrepreneur works but of course a discipline should be there to maintain all regular life necessaries. Keeping that in mind, I generally works with targets, now no matter how much hours to work, if work complete early than I work less hours and if work didn't complete I work of whole day. Also time does not matter to me if its night or daytime, I am properly following flexibility time manner.
Q9) How do you handle the pressure?
I stay focused on what needs to be accomplished and help others to get it. I work the same way with pleasure & without any pressure.
Q10) What are your responsibilities as the business owner?
Responsibility as business owner is to take right decision for business and well as people who are connected with the business either in form of client or employee.
An employee or client mistake can be forgotten but if CEO makes a mistake then a client, employee, and business all need to pay for it.
Q11) What piece of advice would you give to college graduates who want to become entrepreneurs?
I have learned throughout my journey that if anybody just sticks to what a person wants then nobody can stop. Sometimes to get something we need to compromise some other thing. So do whatever it takes to make it happen.
"Every Morning starts a new page in your story, Make it great one day"
You are never late to start new thing.
Follow Him & His Company @
StartoCure is the online entrepreneurial magazine platform, where the team brings you Interview & Stories of Entrepreneurs, Inspirations, Influencers, Startups eco-system & Change-makers. StaroCure also committed to bringing resources, research reports, funding reports, and analysis of the startups, as well as profiles of great businesses & entrepreneurs from all over the world.
Note: If you have a similar story to share with our audience and would like to be featured on our online magazine, then please click here & follow the steps, we will review your story and extend an invitation to feature if it is worth publishing.
You may also like: