Sonu Singh is the co-founder & chief image consultant of Soulful Impressions, a one-stop solution for all your personal branding and image enhancement needs. She is a multitasking mompreneur, who does corporate training, vlogging, podcast & mentor people to develop a career & personality. Also, she is an author. Today we got a chance to interview Sonu Singh, let's know more about her & learn from her experiences.
We hope this can inspire you to become a successful person too! It is worth listening to a successful entrepreneur or to people who share their success stories. We can significantly learn many things from the experiences of them, by listening to their story.
Excerpts from our exclusive interview with her:
Q1) Tell us a little bit about your start-up and your journey, please;
Hello, I am Sonu Singh a mompreneur and I am from Gurgaon. I am a personality & career coach and a public speaker. I am the co-owner of Soulful Impression – Be the Best YOU, a one-stop solution for all your personal branding and image enhancement needs. Everyone says why do we need to work on our personality or build our brand or improve our image. To this I would like to say that YOU already are a brand you want it or not, now it's your CHOICE, do you want that brand to work as you want or as others want. It is the need of the hour for everyone. That is how my start-up was born Soulful Impressions.
I started off as an HR Executive post the completion of my MBA and have been doing the 9-9 job for almost 7 years. Post maternity when I had to decide Profession over Passion, I decided on PASSION. Training, sharing my knowledge with people, assist people in building identifying their personalities, and enhancing them has always been my part of the profession and slowly I got interested in it became my Passion. Then I started with Training, Induction, Counselling employees in my organization, and today when I look back it was my natural calling.
Then I plan to certified myself from one of India's leading Image Consulting institute ICBI in Gurgaon and from there on there is no looking back. I have dual certification as an Image Consultant from Conselle and as a Soft Skills trainer from SQA along with my TTT certification from NABET. With 2.5 years old at home, it's tough however if you have the zeal to excel you would.
Today being a mother of a 5-year-old, I can proudly say that my decision of becoming a mompreneur was the best decision.
I have trained more than 1000+ people in groups, individual or corporate setup on various aspects of Soft Skills, Image & Personal Brand Building. I have many success stories in my kitty who are really doing well and have become Magnetic Personalities attracting Success & Growth.
Initially, it was a rocky road to find my way to a new city with new people (since we shifted from Bangalore). However, once you get the flow and you have a determination you are good to go.
Graduated from the best schools in my early years the exposure I had and the learnings I have from them have always pushed me to do something different and achieve it. Being a Science student, I did MBA. Getting majors in Marketing I choose HR in my profession and now all these learning points in my life help me to excel in my business.
I had never thought to leave my 6-figure salary and get into the grill of starting my journey as an entrepreneur and that too as a mother. However, when I got the opportunity, I just grabbed it with both hands. Life is all about opportunities, every time it does not work on plans you have to be prepared as to what life throws at you and you just grab it at the first go and then give your best shot to make it happens.
I am completely focused on my child (both are my babies) and equal time is devoted to being a mother and being a Coach. I enjoy doing both.
The struggle is still on to become the "TOP Personality & Career Development Trainer of the World" however I am hoping to achieve it soon. I am on a mission to build 1million Magnetic Personalities by 2035. My journey has begun and slowly it would be my reality.
Q2) What was your key driving force to become an entrepreneur?
Entrepreneurship is a Mindset. Doing a Corporate Job or a service is a different kind of Mindset. Both have their pros and cons. However, choosing Entrepreneurship over Service was my 1st step towards fulfilling my dream of becoming a Trainer and have my own say.
I chose entrepreneurship because I always wanted to make an impact. I have always been intrigued by entrepreneurship and read the success stories of all the successful entrepreneurs. You see – It is fascinating how you build something from scratch to build an empire around it and not everyone can do it. You must have a complete mindset change before you venture into the world of Entrepreneurship. With a job mindset, you cannot become an entrepreneur, especially not a mompreneur.
It takes a lot of courage, planning, perseverance, hard work, teamwork, combined with good strategy & execution skills. I have learned all this, and I am still learning from my experience and daily implementation. When you want to make a difference in your life and others take up Entrepreneurship
Q3) How did you come up with the name for your business/startup?
Soulful Impressions – born out of the blue, there is a story behind the name. We are two partners in the business Sonu Singh and Ishpreet Kaur. Once in one of our ICBI sessions, we were asked to introduce ourselves by adding an adjective to our name which starts with the first letter of our name.
I introduced myself as Soulful Sonu – as I believe in doing anything and everything with my heart and soul. I give my everything when it comes to work or personal commitments.
Ishpreet introduced herself as Impressive Ishpreet. As she is an Interior Designer, she always impressed her clients with her skills and talent.
Since we two individuals were coming together and starting off after a lot of brainstorming. We picked up this name SOULFUL IMPRESSIONS – Be the BEST YOU because we believe in working with our heart and soul to bring in an Impressive change in our client's life. This makes them the best version of themselves and they change not only externally but internally too.
By internal I mean – confidence, self-esteem, positivity, emotional balance, loving themselves and being happy from within so that it has an impact on their life and personal growth.
That is how this name came out and today it has become a, One Stop Solution for all Personal & Professional Development Skills.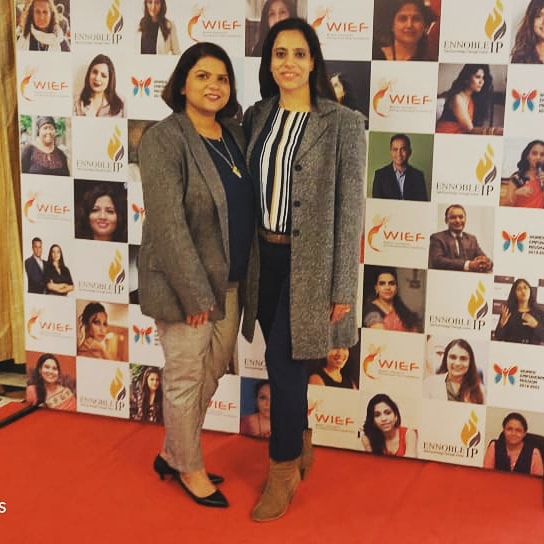 Q4) What service(s) or product(s) do you offer/manufacture?
We are a One-Stop Solution for all Personal Development & Career Development needs that people have. And we provide this training to both men and women who are looking for developing themselves in every threshold of their life and achieving success.
We are working to bring about a sea change in how people see, feel, act, and behave about themselves and grow in life.
We are working to make people aware that each one of you is Brands on your own terms and what you need to do is not seek happiness and confidence from outside but generate it from within.
We are working to help future job seekers and young professionals in understanding that a Career is not developed only based on your hard skills but also on your people managing skills.
We are working with Corporates and groups to make them understand that your employee is your brand utilize its potential to the fullest by improving their effectiveness and Image Enhancement.
We are trying to build a one-stop solution for Personal Growth and Development. To know more about our products please visit our website.
Q5) Why should people choose your product/services?
SOULFUL IMPRESSIONS is a one-stop solution for all your career, personal & professional development needs. We at Soulful Impressions believe that every individual is unique, and they are not competing with anyone else in this world but themselves. Thus, our tagline Be the BEST YOU. You do not need to worry about what others are doing, achieving, or growing what you need to worry about and prepare yourself with is HOW CAN YOU BE THE BEST VERSION OF YOURSELF every single day.
We work on the Vision of creating 1 million Magnetic Personalities by 2035 who can achieve anything Personally and Professionally at every threshold of their lives through our training or coaching interventions. They would be so equipped with their own strengths and know-how that they would not need any external validation. Once you are in our community you get support and guidance throughout and we never leave you alone. The community supports you.
We have workshops and webinar which are tailor-made as per the client's requirements, we never have the same content for all, as one shirt does not fit all, one content also does not fit all so we customize, and we believe in that.
So next time you want to build a Personality that would help you achieve Success for a day, week, year, or lifetime do not forget to DM us or email us. We would come up with a customized solution for you.

Q6) How do you market your business, and which tactics have been most successful?
We generally do not push ourselves in marketing too much because we have had a client base who are giving us repeated business and we are expanding on Word-of-Mouth feedback. Our existing clients refer us to more clients and that is how we are growing.
However, we are highly active on Social Media Platforms like LinkedIn, Instagram, YouTube, and Podcasts. When we are putting up daily content on these platforms, we get followers who are converted to clients. So, we may not have a following like 1million or stuff right now however we get quality leads, and it becomes easier to convert them into clients.
However, we are looking forward to other marketing strategies in the coming months.
Q7) What risks are you facing?
Risk as such there are none as far as my niche is concerned. Today people have ample time to focus on what they want to work on and accordingly taking interest in their Personal Development for better Success. The only risk lies in being a solopreneur we need to push and motivate ourselves to keep coming back and sticking to our plans. Not to fall prey to Negative Thoughts or Procrastinate our work.
Yes, people think being an entrepreneur is easy and you have all the time to yourself, you can work on your own terms and you are not bounded and whatnot. The fact is it is the toughest because here you are the only motivator of self to keep pushing yourself and growing every single day.
Q8) Did pandemic (COVID 19) affect your business? if yes how?
The Pandemic initially had a hurdle in our way because the training industry entirely went from Offline to Online. So, learning the new way of delivery, being effective was a challenge. However, as the months moved ahead we got used to the new way and in fact, it has become a boon for us.
Before the Pandemic, we were restricted only to one Region to deliver training and reach out to our clients. Today we are PAN World delivering workshops & conducting webinars. We are now known face through our social media. We can connect and work with so many people and institutions, connected to so many influential and quality networks. The pandemic has in fact taken us to the Global Platform where we have conducted training for many foreign clients as well.
We have learned new skills, new methodology, and a new way of working out our business. This pandemic also made me follow my passion for writing and speaking and today I can proudly say I have co-authored 8 anthologies and my solo book is under process.
I have also become a Public Speaker and a Keynote Speaker because I had the time I enhanced my Public Speaking Skills and won many awards as a Public Speaker.
Q9) Have you considered any alliance/partnership/funding?
No not till now.
Q10) How many hours a day do you work on average & can you describe/outline your typical day?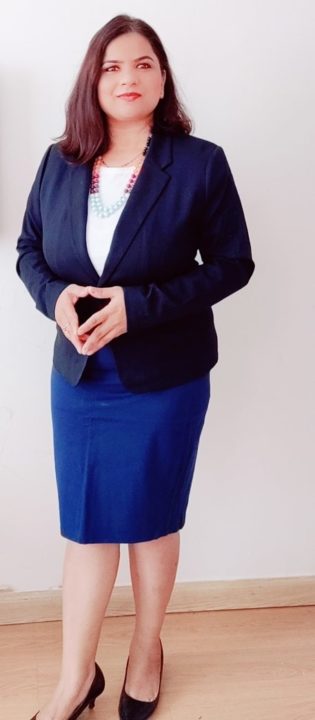 I am a homemaker, a mother, and an entrepreneur so my 24 hours are completely packed. My working hour is very screwed. So, I need to take care of a lot of things before I sit down to work. However, I have built pockets of my work schedule which helps me in completing my task. I have built a schedule for my family too so that when I am working, they don't feel left out and look for me especially my son.
So, on an average I give 3-4 hours of Productive WORK hours for my work. During that time, I am completely focussed and not disturbed by anyone.
There are morning 30 minutes dedicated to social media interactions. I try to schedule my posts and content way beforehand so that I don't need to find what I am going to do. I shoot my content or prepare posts at one go and then spread it over a month. As per my sessions and training, the day defers however this is what I follow.
Morning 9:00 AM – 10:00 AM: For Social Media posts and engagement (mostly LinkedIn)
Noon 1:00 PM – 1.30 PM: Again for Social Media (especially Instagram engagements)
Evening 3:00 PM – 6:00 PM: Focussed work on sessions, content development
Whenever I can squeeze time I catch up on my reading too.
Q11) What is your greatest fear, and how do you manage fear?
The greatest fear for me would be under-performance. Everyone had their set of fears for me it is my performance. That doesn't mean I strive for Perfectionism. I know there is nothing called perfect work or perfectionism they are all myths.
It is only your 200 % efforts that you can give and leave the rest. However, still being human we have fears and we need to challenge ourselves to overcome them and rise as a winner. Fear is a beautiful feeling for me because a bit of fear helps me to be on my toes, be attentive, and focus 200% on whatever I am doing.
Whichever role I am in be it a Wife, Mother, Entrepreneur, or Trainer I strive to give my best rest I leave it to the outcome. I cannot guarantee happiness, change, and effectiveness every single time what I can guarantee is my dedication, commitment, and perfect work. So, I do that I stick to the phrase "Give Your Best Shot".
To overcome fear, I do the following:-
Breathing Exercise
Evaluate my faults and where all things can go wrong and work on them
Plan my entire day, week, and month based on the tasks
Create a schedule for myself.
Keep my sanity intact by exercise and a good diet.
Do not take everything at face value.
Whenever in confusing I sleep over it rather than overthink
Not falling for false promises to self
Being Happy & Content
Being transparent to my clients and partners
Q12) What comes first for you money or emotions?
Any day hands-on EMOTIONS. When we work with the Motto that Is the BEST YOU it is based on enhancing your emotions and along with that in the journey when you succeed that is our biggest gift. Money never motivated me to do whatever I have done in my life. It is all purely based on emotions that I have felt and gone through.
Q13) What piece of advice would you give to college graduates who want to become entrepreneurs??
Entrepreneurship is a Mindset you have to hold on to it and believe in that journey. The journey is tough and not easy however if you get good hands to support you nothing like that, please go ahead.
Make Mistakes and Learn from them. Do not be afraid to make mistakes and see them as an opportunity to learn.
Business is a mindset game just change your perspective toward what you can potentially achieve, and you will see a sea change in your behaviors and thoughts and eventually in others too.
Respect and honor yourself because You had the guts to take this step. You are way above many already.
Take advice from all just Do what you feel is right for YOU.
The First few steps are tough but if you are consistent then you will have a smooth road ahead.
DON'T LOOSE HOPE…KEEP WALKING IN THIS JOURNEY YOU WILL ACHIEVE YOUR SHARE OF SUCCESS
Follow Sonu Singh @
StartoCure is the online entrepreneurial magazine platform, where the team brings you Interview & Stories of Entrepreneurs, Inspirations, Influencers, Startups eco-system & Change-makers. StaroCure also committed to bringing resources, research reports, funding reports, and analysis of the startups, as well as profiles of great businesses & entrepreneurs from all over the world.
Note: If you have a similar story to share with our audience and would like to be featured in our online magazine, then please write to us at hello@www.startocure.com, we will review your story and extend an invitation to feature if it is worth publishing.
You may also like: