Gaurav Sharma is the Co-Founder and Chief Technical Officer (CTO) of Wattt Electromotives which builds commercial EVs which are affordable but at the same time their affordability doesn't compromise aesthetics, features and build quality. At Wattt Gaurav is responsible for underlining the technical specification of the product, refining manufacturing processes, marketing and much more. Today we have a chance to interview him. So, let's try to know more about him and his vision regarding Wattt Electromotives.
We hope this can inspire you to become a successful person too! It is worth listening to a successful entrepreneur or to people who share their success stories? We can significantly learn many things from the experiences of them, by listening to their story.
Excerpts from our exclusive interview with him:
Q1) Tell us a little bit about yourself and your journey, please;
Since my childhood, I was always mesmerized by the world of machines, was always curious to understand their inner workings and not only that I also always wondered how large organizations worked and always dreamt of being a part of such an organization which could put technology to good use and brings change to the society, I also wanted to do my bit.
And our journey as a start-up has been a true roller-coaster ride which scares more than it excites. In a couple of years, we have had a fair bit of ups and downs and a pivot from three-wheelers to two-wheelers was a very difficult yet important decision we made.
Q2) How did the idea for your business/start-up come about?
During our post-graduation, where I met Abhishek, my co-founder, we used to travel a lot by auto-rickshaws, whose condition was not good by any means. The experience of harmful emissions, jampacked autos and nearly meeting with an accident, rung like a bell in our minds, we knew this was our calling and we set sail on this beautiful journey.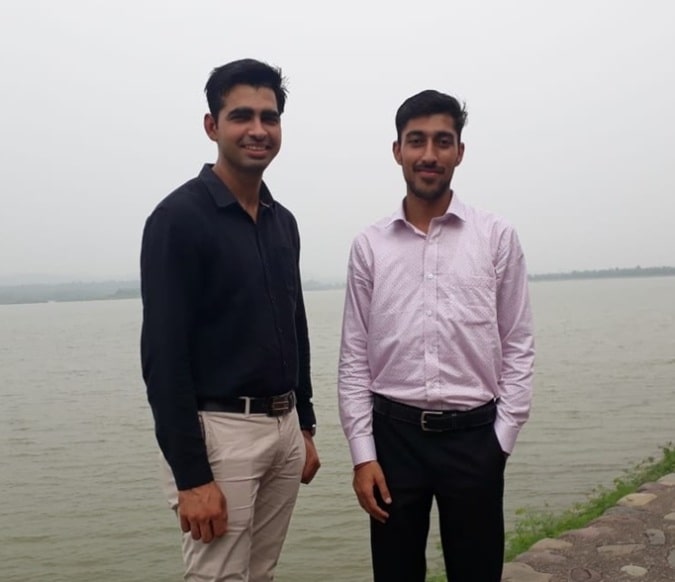 Q3) What was your key driving force to become an entrepreneur?
It is a well-known fact that very few conventional jobs offer an employee the freedom to break away from the chain and think differently or actually do things differently. Theirs a very little chance that your change bringing idea would be entertained by executives. Basically, life gets boring pretty fast. I always wanted to do something meaningful and exciting and I am really passionate about making a positive impact which, I truly believe we would be able to do with this start-up.
Q4) What service(s) or product(s) do you offer/manufacture?
Currently, we are offering an E-bike, which is a fully suspended MTB but looks nothing like an MTB you know. It is in a completely different league in terms of looks and rideability. Primarily, we offer hardware products but, we are a technology company at heart. Because, it's not just the vehicle that matters, there are many things involved like, tracking, navigation, theft protection and most importantly charging infrastructure, to name a few. So, a great vehicle alone would not revolutionize the transportation industry, the whole ecosystem needs to be developed simultaneously and we are focusing on that too.
Q5) Why should people choose your product/services?
We have a consumer-oriented design process, everything that goes into a product should enhance the user experience. We strictly refrain from adding features just for the sake of adding features and increase the selling price. The form should be functional as well and that greatly enhances the product's value for the customers. We truly believe in localization because it lets us ensure quality and safeguard jobs for our people and it shows in our product whose 90% of the components are sourced locally and only controls electronics are being imported. But we are working to getting that sourced locally as well and we are pretty sure that our bike will soon be 100% made in India.
Q6) How do you market your business?
Our weapon choice is social media. We are targeting people through our social media handles like Instagram, Facebook and LinkedIn.
Q7) What risks are you facing?
Personally speaking, I am not great at communicating so, it's been hard to make people see what you see especially, the investors, and being a fresher doesn't help either. Also, choosing an unconventional approach is like stepping into the unknown, you never know what will come your way next and that is quite a challenge in itself but, you know theirs light at the end of the tunnel and, challenges are part of the journey it makes the result more enjoyable.
Q8) Did pandemic (COVID 19) affected your business? if yes how?
COVID impacted every person (including a few animals) on this planet and we were too. Initially, we did not know how to deal with such a situation where every business from manufacturing to the service sector was shut. It certainly derailed our timeline and development was delayed by a few months. But it has not been all negative, thanks to lockdown, people got time to think about their mental and physical wellbeing and that led them to look for a safer alternative to gyms and cycling emerged as a really popular one. The bicycle market has seen unprecedented growth over the last few months.
Q9) Have you considered any alliance/partnership/funding?
Of course, like any start-up we too attended many summits and pitched to numerous investors but, soon we realized that we lacked in one crucial aspect i.e. market presence. So, we decided to get to the market first to get some real traction, and then follow-up with investors.
Q10) What are your responsibilities as the business owner?
I would like to emphasize two responsibilities: – the first one is, if a customer is investing his/her hard-earned money into my product then it becomes my responsibility that the value he/she gets should exceed the amount invested.
The second one is our social responsibility towards the next generation. The impact of our actions today will affect the lives of the next-generation more than anything. So, it becomes our responsibility that we leave what we got from mother nature as-it-is for them.
Q11) What is your greatest fear, and how do you manage fear?
Fear is one of the greatest driving forces in nature. So, you do not manage fear you embrace it. Without it, one would never be able to step out of their comfort zone and do the unthinkable.
Q12) What piece of advice would you give to college graduates who want to become entrepreneurs?
I still have a lot to learn. But I would like to say two things. First, understand your customer. Just identifying the problem or devising a plausible solution may not work. In order to improve your odds of winning, bring in your customer early into the development phase. Talk to them, do surveys, and let them experience the early prototype. Advise of your customer is important. That is what Microsoft did with their
Follow Wattt Electromotives @
StartoCure is the online entrepreneurial magazine platform, where the team brings you Interview & Stories of Entrepreneurs, Inspirations, Influencers, Startups eco-system & Change-makers. StaroCure also committed to bringing resources, research reports, funding reports, and analysis of the startups, as well as profiles of great businesses & entrepreneurs from all over the world.
Note: If you have a similar story to share with our audience and would like to be featured on our online magazine, then please click here & follow the steps, we will review your story and extend an invitation to feature if it is worth publishing.
You may also like: