Meet Bipul Raj: The Youngest Entrepreneur Of Bihar | CEO & Founder of Saneh Foundustry
Bipul Raj is the CEO & Founder of Saneh Foundustry, At the age of 16, he along with his friend Kundan founded a manufacturing business. He got awarded by Honorable State Minister of Labor, Bihar as Youngest Entrepreneur Of Bihar. Due to his company more than 100 people able to feed their family. He also started free institute "Marg-Darshan", where 150+ children getting quality education for free. Today we got chance to Interview with him, lets know more about him & his company:
We hope this can inspire you to become a successful person too! It is worth listening to successful entrepreneur or to people who share their success stories? We can significantly learn many things from the experiences of them, by listening to their story.
Excerpts from our exclusive interview with him:
Q1) Tell us little bit about your startup and your journey please.
We are combination of Foundation and Industry pledged to impact society at grassroots level. We are working on women empowerment by making them able to earn their livelihood by our small industries based products like incense sticks, candles, Cotton Wicks beside this we are providing quality education to underprivileged children.
Great Journey begins from a Single step and Initiation is always exciting and if your vision is to leave impact on society by your work then in the beginning big hurdles vanishes but success lies in sustaining that excitement. We have completed more than 2 years as an organization and witnessed lot of ups and downs but the most significant thing is that we are successfully managed to channelize the initial excitement till now.
Strong dedication towards works and excitement of breaking hurdles of life and explore various opportunities makes our way ahead out of crowd and shaped me as Youngest Entrepreneur of Bihar. In year 2019 I has been awarded by the title YOUNGEST ENTERPRENEUR OF BIHAR by Honorable State Minister of Labor. This journey taught me to handle Social, economic and Psychological dilemmas and rise above these hurdles to serve the Society and Nation.
Some things I want to mention here,
I am raised up by my mother after my father passed away in my days of early childhood. She bravely managed fundamentals for me and my two younger siblings. She managed to adorn us with qualitative education due to which I managed to Crack JNVST. Jawahar Navodaya Vidyalaya is a wonderful School and quality education provided here fills me up with scientific temperament and from there itself my entrepreneurial journey started I have represented my Vidyalaya on National Science Congress continuously for 3 years.
These are the time when the concept germinated within myself that earning self-livelihood is not a big deal but to contribute for Society, Nation and World make your way distinct from the crowd . From my days of early childhood I make up mind to do something different as when I was in class five I used to work in a Cold Drinks shop to help my mother to run the economics of my home.
Q2) How did the idea for your Startup come about ?
Before I go further I want to you know that my seven years of Navodaya life gives me some amazing friends and today I am where I am it largely due to my friends.
I was then in class 10th and it was the month of January 2018. I came close to one of my friend Kundan and explained my dilemmas regarding my restrictions in higher studies ill health of my mother accompanied with poor economics of family as my Mother was financial backbone of our family.
Above this I had responsibility of my sister's wedding on my shoulders. So during the conversation we jumped to the idea why don't we together start something. Then after we researched about possibilities in Small Scale based start-ups which has ability to make us financially stable and don't act as restrictions to our studies and on Jan 2018 we decided that we will set up our manufacturing enterprise and then onward we are striving.
Q3) What was your key driving force to become an entrepreneur?
Don't take obstacles of your life as your point of collapsing take it as opportunity which will leave you with beautiful insight of life when you embrace these obstacles. When I passed my matriculation I had challenges my mother was ill and she was not able to work for longer duration to manage Economics, I had responsibility of my sister's wedding on my shoulders . Keeping deep faith on myself I started my enterprise and obviously to overcome these challenges act as key driving force to shape me as an entrepreneur.
Q4) How did you come up with the name for your business start-up ?
From the beginning itself I dreamt with my friend that we will launch multiple products in market. We had plan that we will manufacture every possible daily use household products or in other words all Fast moving Consumer Goods as Biscuits, detergents, vermicelli, Sanitary Napkins, soaps, Pen, notebooks etc. etc. That time itself we had decided that we will run an N.G.O to access education to Education Deprived Children of marginalized communities. We had planned to launch our magazine.
Obviously it may surprise anyone but gradually and gradually we are climbing towards our ambitions. So we were looking for a name which suit all our products and services. Our first product is incense sticks so we are randomly uttering devotional names as POOJA, SADHNA , AARTI for our Incense Sticks. Suddenly I uttered SNEH and this name holded our attention as it may be used for every commodity and from SNEH now it is transformed TO SANEH due to registrations limitations.
But we pronounce SANEH as SNEH as our emotions are associated with initially selected brand name. Foundustry comes from merging two words together i.e Foundation & Industry.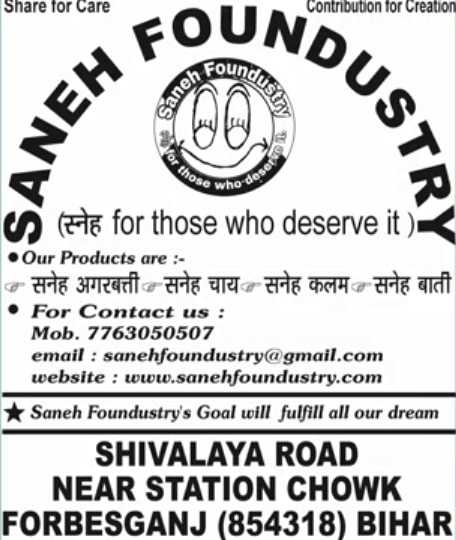 Q5) What service or product do you offer/ manufacture ?
We manufacture multiple worship commodities as incense sticks, cotton Wicks, candle. We are running an Educational Organization under the name Margdarshan Academy and recently there are 2 centres of Margdarshan Academy one in Forbesganj and another one in Motihari with 159 Children getting quality education for free .
Moreover these our team successfully managed to grab the tender to install meter in every household throughout the Bihar & this is the biggest breakthrough in our work until. Now more than 50 men are working for us in the fields.
I take these achievements as Initiation and in the other words of William Wordsworth "Miles to go before I sleep" .
Q6) Why should people choose your products/ services?
We at SANEH believe in change and we started to transmitting vibes of transformation in society as 40-50 women and 4-5 men are earning their livelihood from our industry and 159 children are getting Education for free. All the goals of our startup are directed towards improvement of marginalized unemployed women and Education Deprived children. People are free to choose brand of their wish but I they want to see transformation in society then they must pick up our products as it is not for the sake of private profit it for the sake of public upliftment .
Q7) How do you market your business and which tactics have been most successful ?
Deep faith, strong determination, Communication Skills and flexible & frank behavior are key forces to win the market. Initially wholesalers, retailers, distributors, wouldn't listen to you but keep approaching to them consistently. Smart advertisement makes things lucrative for them.
Q8) What risks are you facing ?
We shouldn't see some obstacles as a risk as it lies in varies definition of Entrepreneur, one who take risk to maximize profit & welfare. In this particular field of business there was not any time without competitors and there is not and there will not be . Competence improve your quality as a person and it pressurize you to improve your products and services so if I say it shouldn't be taken as exaggeration that I love risks .
Q9) Have you considered any alliance/ partnership/ funding ?
We have tried for funding and we have pitched our idea in two renowned institution. One at Lemon School of Entrepreneurship and another one at BIT MESRA . At Lemon School of Entrepreneurship we were rewarded by one year of free scholarship to get mentor-ship there. We took MUDRA Loan Under MSME schemes..
Actually we lack a team and if anyone who is willing to join us they are whole hearty welcome . We need guys who are outside the box thinkers. We have lots of projects to launch but we lack fundamental infrastructure i.e Human and monetary capital both.
Q10) What are your responsibilities as the business owner ?
One can't germinate seeds of success and enjoy welfare metamorphism of those seeds without examining self-responsibility regularly. As our Startup is in initial stage I used to do whatever is required. Sometimes I am act as Chief Executive and sometimes one may find me packaging Incense sticks, dying sticks in perfume, Sometimes I act as marketing agent checking whether it is functioning properly or not.
I used to Visit Centers of Margdarshan Academy to reminding teachers our vision and cheering up children studying there . Moreover these I am call boy of my organization who handles all sorts of queries coming from throughout the Nation .
Q11) How many hours a day do you work on average and can you describe outline of your typical day ?
I believe in flexible schedule. Routine makes life monotonous. It is not so that there can't be discipline in work without routine . I am highly disciplined during my working time. At the same time I used to enjoy with friends and I give adequate time to family. If one ask me about numbers, someday I work 18 hours a day and I don't see night as barrier to my work. Many times it happened I don't sleep throughout the night if it is necessary. The point is I love my work and I am heartly involved in my works not forcefully entangled that make the difference and so work never horrify me I embrace work happily.
Q12) What is your greatest fear and how do you manage fear?
In the words of Franklin D. Roosevelt "The only thing we have to fear is fear itself"
Fear is the psychological limitation and other thing which keeps me going is deep faith on myself that one day my dreams will be a living reality, I believe in efforts and that is what I will keep performing till the last breath of my life beyond any fear.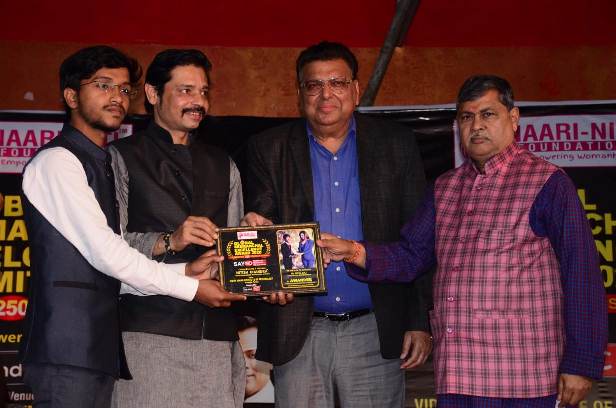 Q13) What comes first to you money or emotions?
I am not I am. In the sense I am accumulation of nature's offerings in terms of food, shelter and various other resources. I am my mother's affection; I am my teacher's blessings. I am enjoying privileges due to Martyrs who sacrifice their lives for national security.
Money is small requirement but emotions are precious. It is pathway to make life longing connection with people. Everyone should priorities their emotions and everyone should time their emotions in such a way that cause welfare and happiness for himself/ herself and the Society.
Q14) Tell us about your early life and how has being an entrepreneur affected your family life.
There is a famous saying "No Pain No Gain" . I am not going to give any exaggeration to my past life. My mother is very brave lady, she is God to me until what I have achieved it's all due to her support. She raised me and my siblings crossing thorny circumstances. I think my Entrepreneurial spirit come to me just due to her .
My Entrepreneurial journey transformed everything in my life. I gained fame & recognition throughout the Nation and outside the nation. I have been awarded with 4-5 National Awards and recognized as Youngest Entrepreneur of Bihar in 2019. My journey is covered up by Wikipedia, DD NEWS and ZEE NEWS.
Moreover these it is due to my Entrepreneurial Initiative that I become able to complete wedding of my sister grandly.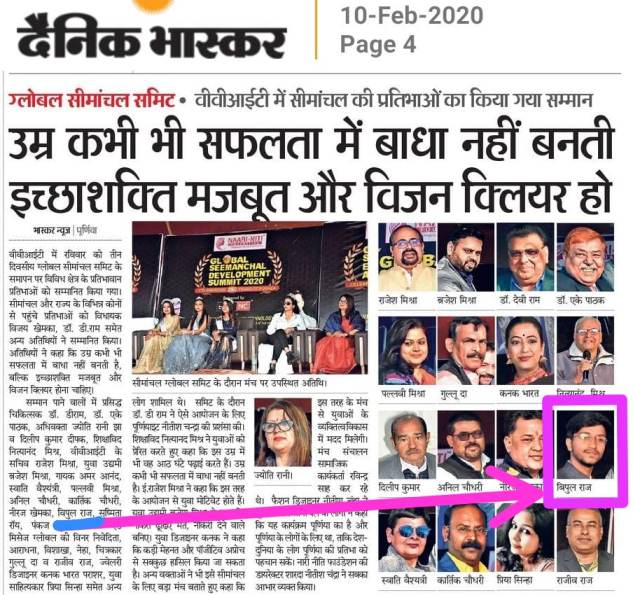 Q15) What piece of advice would you give to college graduates who want to become entrepreneurs?
I think I am not the right person to give suggestions or advice . There are millions of great personality which youths should look upon for inspiration .
I use to seek inspiration great scientists Elon Musk, Great Entrepreneur Vishen Lakhani, great mentor Vivek Bindra and once again great Scientist A.P.J Abdul Kalam .
One more thing I want to add here suggestions are word only which only enhance your oral Vocabulary but if you want to see the power of insight shown by great men and women from every corner of the world then make any one suggestion part of your behavior and believe me it will completely transform your life .
Watch video on his life journey:
Follow Him:
StartoCure is the online entrepreneurial magazine platform, where team brings you Interview & Stories of Entrepreneurs, Inspirations, Influencers, Startups eco-system & Change-makers. StaroCure also committed to bringing resources, research reports, funding reports and analysis of the startups, as well as profiles of great businesses & entrepreneurs from all over the world.
Note: If you have a similar story to share with our audience and would like to be featured on our online magazine, then please click here & follow the steps , we will review your story and extend an invitation to feature if it is worth publishing.
You may also like: